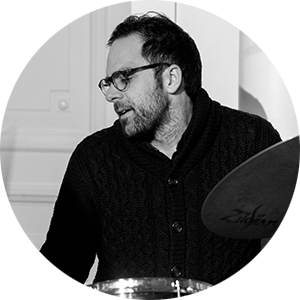 Drummer, composer and teacher
Aarón Castrillo (1990, Seville, Spain) is a drummer, pianist and composer, based in Berlin. He is mainly a modern jazz musician, also immersed in Neo-Soul, Lo-Fi Beats, R&B and Pop music. He is involved in different projects as a sideman and co-leader on the international stage.
He has years of teaching experience in modern drumming, music reading and modern music theory, aspects of jazz improvisation, composition and ensembles.
Aarón obtains his Bachelor's Degree in Jazz Drums in 2016 at the accredited Music Conservatory "Musikene" in the Basque Country, where he studied with the drummer Jo Krause. In 2018, he completes the EUJAM (European Jazz Master) MA Degree, which gave him the opportunity to further his education at various well-known music schools such as the Conservatorium van Amsterdam, the Rytmisk Music Conservatory in Copenhagen and the Jazz Institute Berlin.
Aarón Castrillo is currently active in numerous musical projects as a sideman, such as with blues singer Ina Forsman, the octet of London saxophonist Joshua Jaswon (with whom he has released 2 albums) and a variety of groups within the modern jazz scene in Berlin. He has performed internationally with various projects in Italy, the Netherlands, Spain, Switzerland, Luxembourg, Germany, France, Denmark…. performed at important festivals such as the Heineken Jazzaldia in Donostia-San Sebastian, the Jazz Open Festival in Stuttgart, the Jazztage Leverkusen and emblematic concert halls such as the JazzHouse in Copenhagen or the Bimhuis in Amsterdam. In 2019, he would release his debut album "Memories" with his quintet.
Motivation
"My approach as a teacher is based on inspiring students by giving them the necessary knowledge and finding those strategies they need to develop their skills as musicians".
Vita at the GMA
Aarón teaches drum set at the Global Music School since September 2022.