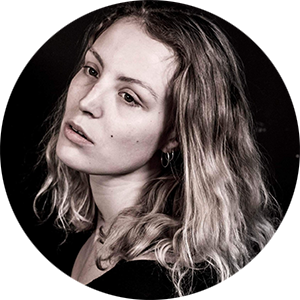 Pianist, composer and piano teacher
Aïna Spencer, born in 1996, is a young Belgian composer and a pianist. At the age of 14 she started her piano training with Kristina Guzek. In June 2018, she obtained her bachelor's degree at the Royal Musical Conservatory of Mons, in applied and interactive music composition in the class of Denis Pousseur. A hybrid section that mixes music with cinema, theatre and other visual disciplines. In 2016, she arranged songs for the musical "Un peu d'(H)air" directed by Lorent Wanson. In 2017, she composed in collaboration with Maïa Blondeau, the soundtrack of the short film "Lenny" directed by Camille Béglin in Paris. In October 2018, she composed for Ensemble 21, a contemporary orchestra directed by Marc Collet, for a "ciné-concert" project that brought back to life cartoons dating from before 1920. She also participated in the Trajectoire festival where she directed a musical piece written by Noé Gillerot. In January 2019 she composed the soundtrack of the installation OXO beat gender for the collective OXO at PianoFabriek in Brussels. In December 2019, she composed the original soundtrack of Tchivali, a short film directed by Louis Marbaix. And since March 2020, she has been working on "Harme", a creation by the Six-Faux-Nez company. A history afacionado, Aïna Spencer has always been fascinated by the revival of artistic trends. She draws a certain inspiration from this, which will be felt in the writing of her pieces, even if her favourite instrumentarium will remain the panel of urban musical devices. Today she lives in Berlin, she works as a music producer and a piano teacher. Recently she published the first song « Cry n'Die » of her Single named « Sleepy Water » an expression of her desire to return to her roots, the piano and singing.
Motivation
Music is everywhere in our world. The ineffable understanding of it remains in each of us. My job as a teacher is to find the way for all my students to embrace music and make it their own. My goal is to free my students from the fog that can be created by the vocabulary and grammar of music. Because I believe that music belongs to everyone, my teaching style adapts to my students' preferences and logic so that they too can enjoy interpreting the classics that are the foundation of today's music.
Vita at the GMA
Aïna Spencer teaches classical piano at Global Music School since April 2022.