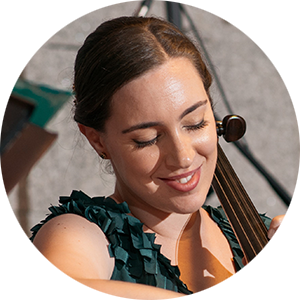 Cellist
Cellist Ana Luísa Pereira was born in Portugal, where she graduated with a Bachelor degree in Performance at Escola Superior de Música e Artes do Espetáculo (ESMAE), attending also a Master's program in Performing Arts as well as a Master's program in Music Education. Ana has held several teaching positions in her home country, working with all ages, levels and abilities, teaching not only cello but chamber music, ensembles and musical notation.
Artistic career
When it comes to classical music, Ana Luísa Pereira has prolific work in chamber and orchestral music, having integrated several ensembles, playing from early Baroque to Contemporary music. Ana has also ventured into solo performances, with a wide spectrum of composers and eras. As of late, Ana has been experimenting with other genres of music, such as pop, rock, stage music, folk and choro/bossa nova, expanding the cello sound to other grounds. Since moving to Berlin, Ana has been collaborating regularly with Emaline Delapaix Trio and KlangArt Berlin, but also starting and shaping other projects, with the intent of fusing jazz and world
music, exploring her interest for arrangements.
Motivation
Passion for music comes in many forms and can be translated in various ways. As a teacher, providing students with the necessary tools to achieve their goals and adapting the course to their needs is a priority. Developing an intuitive reaction and musical reflexes, connecting to the instrument on an emotional level, with repertoire chosen for each student, taking into account their preferences and intentions, is the vital part of teaching. With over 10 years of teaching experience, Ana is very passionate about passing her knowledge to students who share the same enjoyment playing her instrument.
Vita at the GMA
Ana Luísa Pereira is teaching cello (violoncello) at the Global Music School since 2019 in private and group lessons.