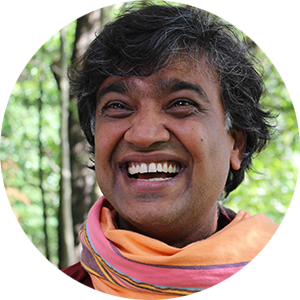 Flutist and Teacher for Bansuri and Harmonium
Babua (Prasenjit) Pahari was born in Kolkata into a family of musicians with a long musical heritage. His father (the late Indubhusan Pahari) was a respected tabla guru. Pahari began his musical training with his father and learned the art of playing tabla, the classical percussion of North India from him. At the age of fifteen Babua Pahari started learning the Bansuri (the bamboo classical flute of North India) from the late Sri Parth Bhattacharyay and Sri Jayanta Chatterjee. With dedication and intense hard work Pahari became a skilled flutist.
Babua Pahari is known for his versatile playing in classical, semi classical, Bengali songs and fusion music. Since 2004 he has performed numerous concerts in India and in Germany. He composes for his ensemble as well as for others. He is a permanent member of the bands "Back to India", "Integra" and the founder of the bands "Ananda Dhara" and "Kalkutiran".
Vita at the GMA
Babua Pahari is a multi instrumentalist. At the Global Music School he teaches Bansuri bamboo flute. Additionally to this he offers Harmonium lessons.
Languages
Bengali, Hindi, English and German
Further information
Personal Website