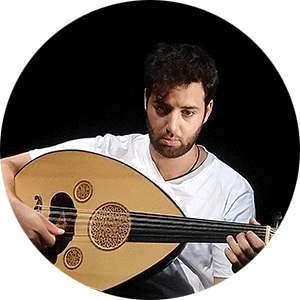 Oudist, Double-Bassist and Teacher for Oud
Born in Jerusalem, Bakr Khleifi started learning music at an early age. At the age of 6 , he started learning the oud and studied with renowned oudist Ahmad al-Khatib. Over the next decade he studied with different oudists such as Simon Shaheen and Samir Joubran of the Trio Joubran. At age 15, he started learning the Double Bass and within a year was part of Daniel Barenboim and Edward Said's West-Eastern Divan Orchestra. He holds a bachelors in world music specializing in oud from the University of Gothenburg in Sweden and a masters in music from the Buchmann-Mehta School of music in Tel Aviv in double bass performance.
Artistic Carreer
Bakr has performed in numerous venues both as a solo oudist and a double-bassist. He was a member of the West-Eastern Divan Orchestra for 6 years and performed in some of the world's most important stages such as Carnegie Hall, Teatro La Scala, Philharmonie Berlin, and the Royal Albert Hall to name a few. As an oudist, he performed many times in his native Palestine as well as in Vienna, Berlin, Seville, and Gothenburg amongst other cities throughout Europe and the United States.
Bakr was a teacher at the Barenboim-Said Foundation in Ramallah, where he taught music appreciation, music theory, and coached young students in orchestral repertoire.
Bakr has multiple musical identities, as he had to combine learning both the Maqamic discipline and the Western Classical discipline from an early age. He believes in mastering a chosen discipline, while at the same time keeping an open mind and interest in other musical disciplines.
Vita at GMA
Bakr is teacher for Oud at the Global Music School since June 2020.