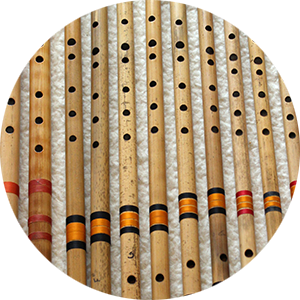 Bansuri lessons
The Bansuri is a Hindustani bamboo flute, widely used in North India. The courses are offered to students of all ages, beginners and advanced players, either individuals or in groups.
Students will learn the system of Northern Indian classical music, also known as Hindusthani music. The Hindustani melodic and rhythmic system was established many centuries ago. Students will be taught short melodies and simple rhythms in the beginning. Additionally, they will also teach about finger position and sitting position from the very beginning of the course. Babua gives importance to blowing technique, which forms a very essential part of his training. At a later stage, the students will be taught how to improvise on Ragas and learn compositions. Improvisation is an essential ingredient in the music of North India.
Learn more about the instrument
The Bansuri is a bamboo flute of North India. It is well known in the Hindusthani classical, folk and the modern music of North India. The sweet sounds of the instrument is found in many musical contexts, the Pujas (religious festivals in the temples), music festivals, recording studios, movies and dance. Bansuri is performed as a solo instrument but is also used to accompany a wide variety of music ensembles and dance.