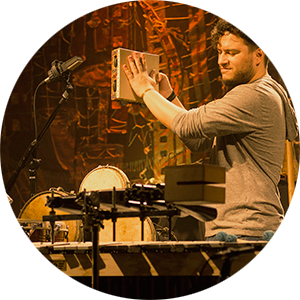 Afro-Brazilian Percussion – group course
The Brazilian Percussion course is dedicated to the music of Brazil, which is rich in history with a diverse range of influences. Much of its rhythmic character comes from the music and culture of enslaved Africans who were transported to Brazil to work on plantations. Their descendants retained many aspects of these diverse cultures and made a huge contribution to Brazilian music. However, there are also influences from the indigenous traditions of Brazil as well as the European colonists who brought their music with them.
The best way to learn these rhythms is to play together with others in a group or ensemble. Under the knowledgable guidance of Amoy Ribas (Brazilian pandeiro expert, percussionist and multi-instrumentalist), the ensemble will explore a variety of styles from the traditional to the popular and everywhere in-between. In particular the ensembles will focus on rhythms like Samba, Choro, Forró, Baiao, Coco, Xote, Xaxado, Cavalo Marinho and Frevo. While playing together, students will learn and be exposed to different playing techniques on both traditional and contemporary instruments such as Pandeiro, Agogo, Atabaque, Surdo, Tamborim, Afoxé, Chocalho and reco-reco.
The course has been divided to accommodate both complete beginners as well as advanced beginners and intermediate percussionists.
BASICS I (for beginners)
This course is an introduction to Brazillian percussion – it is orientated towards beginners and those interested in taking their first steps into Brazilian music – there is no prior knowledge or experience required to attend this course.
BASICS II (for advanced beginners)
The course addresses intermediate percussionists, not necessarily versatile in Brazilian music. However motivated and ambitious beginners could also be integrated in the course.
REGISTRATION DEADLINE – 18. 02. 2019
The courses will start in March 2019 for a 4 month period.
Teacher
Amoy Ribas
Origin of the instrument
Brasilien
Courses
Basic I (beginners)
Basic II (advanced beginners)
Format
60 min. weekly (except school holidays/public holidays)
Price 70€ per month
Other Courses
Pandeiro
Afro-Cuban Percussion