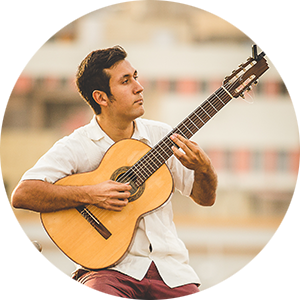 Guitarist, Composer and Teacher for Guitar
Carlos Corona is a guitarist in constant evolution. He began his classical guitar studies at the age of 9 and since then the music has never left him. In the last decade he has traveled through Latin America making concerts and studying with great names of the international guitar scene such as Rogerio Caetano and Alessandro Penezzi.
He has two albums recorded as a soloist and has collaborated in more than 15 productions either as a producer or guest guitarist. His performance at the international Jalisco Jazz Festival 2016 sharing the stage in Teatro PALCCO with John Beasley, Frost Ensemble, Toktli, Federico Sanchez, earned a nomination for 'Best Jazz Concert Mexico 2016' (Lunas del Auditorio Award).
Since 2017 Carlos lives in Berlin, where he continued his music career as a solo guitarist and session musician. Since then you can found him in milongas playing with two-time Grammy nominee Carlos Libedinsky; accompanying the Brazilian singer Giovanna Piazza with the Babel Collage project; or playing with his own project for different Theaters in Germany, among other varied projects.
Concert Highlights in the last years: Leipziger Jazztage 2020 with Natalie Greffel Band; Theater Putbus 2020 with Babel Collage, Carlos Corona Trio and Marianne Blum; Iberoamerikanisches Institut Berlin 2020 with Carolina Riaño; Xjazz Fest 2020 with Natalie Greffel; Utopia Cine Concert, Toulouse 2020 with Babel Collage; Contemporary Tango Festival, Berlin 2019 with Carlos Libedinsky; Glastonbury Festival 2019 with Sol Okarina; SummerKLAENG 2019 with Laura Robles.
Vita at the GMA
Carlos Corona teaches Latin-American & Brazilian guitar at the Global Music School since January 2021.