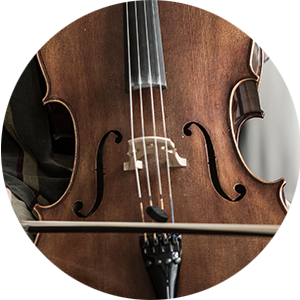 Cello lessons
In Ana's cello lessons different methodologies are applied according to your educational objectives and tailored to your specific needs. Group lessons can provide a very effective peer learning experience within the class, much like mirroring and adjusting accordingly. On the other hand individual lessons can be tailored to a defined end, this could be focussing on various technical aspects, a performance or preparation for an examination.
Cello lessons for beginners
We will start by playing simple melodies in the first months and gradually develop more complex tasks. The goal is to develop a good control over sound and intonation by the end of the first year so that you will be able to play confidently and comfortably in the first position before starting to explore other positions for more resources and options.
Repertoire, notation, tecnique
The repertoire will always be chosen according to your preferences and needs. We will begin with simple well known and recognizable folk songs to help train your ear and develop tone and intonation. If desired, you can even compose your own simple pieces, this way exercising other areas you might wish to explore on the instrument.
Learning to read musical notation in the first lessons is important. In this way you can begin to play with others as soon as possible and gain the confidence to tackle more complex scores and tasks. As your playing and rhythmic sense develops, improvisation will be included to enable you to explore other sensory territories and musical expressions.
A strong and good technique is vital to enable the you to explore your own ideas and develop your own voice as a musician and cellist. Ultimately you will teach yourself how to play the cello, under guidance and instruction from your teacher, who acts as an enabler and provides the best tools to help you achieve the goals you set for yourself.
The lessons will also guide you in how to practice as well as being a time for experimentation, learning to listen more intensively, how and what to listen bit they will also help you to develop your understanding of the physical and cognitive components of your instrument and apply them to your playing.
Learn more about the instrument
The cello  or violoncello is originally from the viola da braccio family and is similar in form to the violin. However, it's bigger so the musicians play while sitting down. The word cello comes from the Italian and actually means "little violone". In German, the instrument was formerly referred to as a bass violin. The cello has four strings and a pitch of almost five octaves. It was created about 450 years ago.