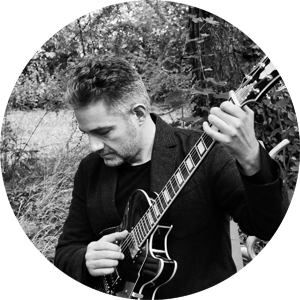 Guitarist and Composer
Born in Alassio, Italy, Chester Lukas Harlan, grew up in Rome, in a richly artistic and multicultural environment. His musical education started at age 9 when he began playing the classical piano. At age 13 he moved to Paris and started to play the guitar and compose. Some years later he joined one of the most prominent European experimental bands, "Vox Populi", with which he started a prolific collaboration. After studying philosophy at the Sorbonne University in Paris, he won a scholarship to Berklee College of Music in Boston, where he received a Bachelor's Degree in guitar and composition and an International Student Award.
Artistic Career
After a number of years in New York City, where he established himself in the music scene while intensively performing and composing, Chester returned to France to join the sextet of Argentinean singer Barbara Luna and participated in many festivals throughout Europe, Asia, the Americas, New Caledonia and Australia. In addition to performing and composing, Chester has sought out collaborations such as the Richard Rechtman performance "Les Vivantes" writing music inspired by his texts, that was presented at the School for Advanced Studies in the Social Sciences in 2016, in Paris. Other projects include "Quel gran pezzo dell'Italia" with actor Giuseppe Cederna, collaborations with the English artist "Tricky" of Massive Attack, and the last work by Brazilian singer and songwriter Carolina Sá, that he's producing.
Vita at Global Music School
He currently lives in Berlin, where he performs, composes and teaches at the Global Music Academy since 2018.