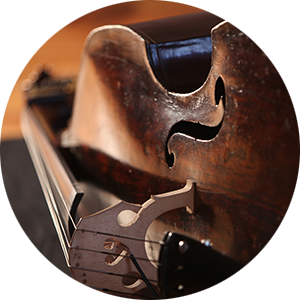 Double bass lessons
From Salsa to R&B – the Global Music School's bass program covers many styles. The double bass lessons with Martin are aimed at beginners, intermediate and advanced players. We help you to make decisions and to develop your personal training program.
The bass has a special role in music, its lines very often shape the style of the group in which it plays. It has a subtle, but strong influence on the sound of the music. Learning to play the bass not only requires mastering the instrument, but also expanding and refining your personal perception of its effect on the music.
Building on the level of experience and previous knowledge of the students, Martin Lillich trains the following topics:
Sound concepts
Techniques
Building your repertoire
Traditional ways of playing are organically adapted to the individual musical requirements of the learner. Together with you, Martin will develop a personal practice to enhance musical independence. The teaching material is provided as required, created by Martin, or jointly developed.
Here is a list of all the topics that we will address in your lessons:
1. Integrating the bass
Together we define the space you need, the range of possible movements, and the physical dynamics. The bass is a big instrument and it is important that you feel comfortable with it. Sometimes a small change can bring major benefits.
2. Left / right hand coordination
Dividing up tasks creates tension and thus dynamism. In addition to looking at the right and left hands in their separate roles, we also repeatedly discover them as rhythmic partners.
3. Rhythm comes from within
We will practice rhythmic independence and discover the fun that comes with increasing rhythmic self-confidence. Your metronome should be your partner, not your boss.
4. Sound
The more you feel that you sound like yourself, the more successful your practice has been. We will explore the sound possibilities of your instrument and you'll enhance your perception with practical exercises. Your readiness to mainly listen decides about how you connect to a room or audience.
5. Tonal orientation
Knowledge about harmonic relationships comes from playing experience, as well as existing knowledge can be applied to an instrument; this works both ways. Again, groove is most important: without rhythm and sense of time, lines and chord progressions quickly lose their meaning.
Some considerations about techniques:
After nearly two centuries of stagnation, double bass pedagogy finally started to develop:
1. The fingerboard hand is released from the rigid 3-finger technique (1-2-4 or 1-3-4) and conquers larger tonal spaces, either through slight rotation ("pivoting") around a thumb position, or by allowing the equal use of all four fingers (1-2-3-4).
2. The techniques of the plucking or bowing hand are no longer tied to stylistic or regional specifications ("German" or "French" bow), but are chosen depending on the musical requirement or preference.
3. In addition to the standard tunings in fourths E-A-D-G or F#-B-E-A ("orchestra- / solo-tuning") with its advantages and disadvantages, a growing number of players tune in fifths. As a result, the double bass sound possibilities get more attention from both players and listeners.
Learn more about the instrument
The double bass is the lowest and the largest string instrument, and it is at home in modern symphony orchestras, in jazz, in rock 'n' roll etc. It can be played sitting or standing. While the instrument is mostly bowed in classical music, the jazz bassist normally plucks the strings. The sound of the double bass is irresistible!