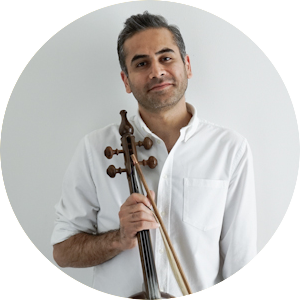 Kamancheh-Player and Composer 
Farhang Moshtagh is a freelance musician born in Iran and started to learn persian traditional music first at a music school and then at the University of Music in Iran. He went then to Ukraine to study Jazz music at the Conservatory of Art. Back in his home-country, he started to work as a teacher at the Conservatory of Music in Tehran. The main instrument of Farhang is the Kamancheh.
Farhang Moshtagh is a member, as a kamancheh player, of the well-known Babylon Orchestra in Berlin. He is playing several concerts with bands and also as a soloist – playing his own music.