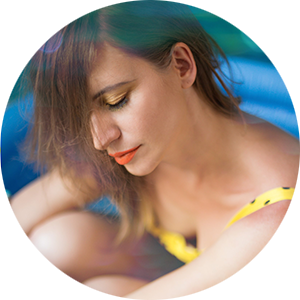 Singer and Teacher of Brazilian Singing
Giovanna Piazza was born in Sao Paulo, Brazil. A daughter of two dancers, she grew up in theaters and rehearsals surrounded by art and music. In her childhood she was always singing and recording sounds of the city, like a diary of her life. With vinyl and tapes collections as an 1980's child did, she was in love with vintage records of Boleros, Marlene Dietrich, Stephani Grapelli, and of course all the great Brazilian music! Her debut as a singer was in Teatro Municipal de Sao Paulo, singing Tom Jobim by the Festival 'America em Scena', at the age of fourteen.
1996 she moved with her family to Weimar, where she started a big cultural adventure, learning the German culture, singing Brazilian music in venues of Weimar, Leipzig, Jena, Halle. Some years later Giovanna moved to France, where she learned French and started to discover the chansons and East-european music as well, finding an affinity to this music in her voice. 2000 she started vocal coaching by tenor David Lee Brewer, who brought her a new approach to vocal technique and knowledge of her voice. In 2002 she performed in Staatstheater Kassel, Germany, in the production of 'Pasión el Tango', singing with the tango/jazz band Pasiango. 2003 she performed there in the play 'Aymineh und Aladdin', singing in Turkish.
After studying Cultural Studies in Frankfurt (Oder), she moved to Guadalajara, Mexico.
Singing in more than six languages and in a variety of genres. Giovanna loves to mix music styles and genres. She is performing with Mexican Gitarrist Carlos Corona as 'Babel Collage' since 2009. They created also the album 'Aracombó' (2014), a world music fusion between Mexico, Cuba & Brazil. In Mexico Giovanna collaborated with different musicians and groups as the French music band 'Les Femmes de Serge', or the Klezmer/jazz band 'Sherele'. They featured her in their album 'Goulash Birria' in 2012, singing in yiddish. As a homage to Mexican music, Giovanna recorded 2016 her first solo album called 'Vereda Tropical', a fusion between Mexican and Brazilian Music with also own compositions. The album featured great musicians of Mexico and Brazil.
Since 2017 Giovanna is living in Berlin, Germany, playing with Babel Collage Duo and as Solo with Band in different venues such as Hannover Staatsoper, East Side Music Days Berlin 2017/2018, Jazz&Folk Syke, Villa Neukölln, Ufa Fabrik, Theater Putbus and others.
Vita at the GMA
Giovanna Piazza is teacher of Brazilian singing at the Global Music School since February 2021.
Motivation
"I love to teach what I know about singing Brazilian Songs in Portuguese and help others to sing this kind of music and improve their knowledge in it.
World music is so important, but it is sometimes a little difficult to learn other music styles that are not classical, pop, rock and jazz. I love to offer this opportunity."