Greek folk music (Bouzouki, Tsouras, Baglamas, Gitarre)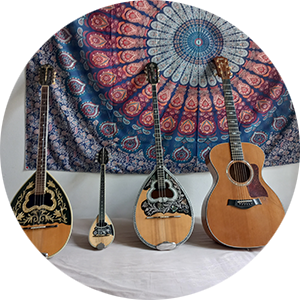 GREEK REBETIKO AND FOLK ORCHESTRA MUSICAL INSTRUMENTS (GUITAR,BOUZOUKI,BAGLAMAS,TZOURAS)

Bouzouki,baglamas,folk guitar and tzouras consists the original rebetiko orchestra.The teaching methods for all these instruments are practical and theoretical and also a combination thereof.
The purpose of teaching is the study and learning of Greek urban music since
the turn of the last century until now and conducting seminars by accomplished virtuosos musicians.
Dinos offer to learn the folk and rebetiko musical instruments (folk guitar, three strings bouzouki, and four strings bouzouki, baglama and tzouras, theory and harmony of folk Greek music: scales,makams, harmony, rhythms, accompaniment, improvisation, techniques of the instruments and music ensembles.
The program and these materials include audio samples from the Smyrniote and post-war singing schools of the most important composers of the urban folk tradition from Smyrna and Constantinople to Athens and Piraeus.
All ages and all levels are welcomed and also those players of a music instrument who want to join a music ensemble.