Hindustani Classical Singing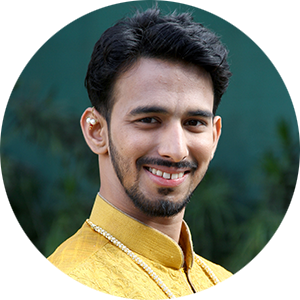 Hindustani Classical Singing
Our Hindustani classical singing courses cater to all age groups and skill levels, from beginners to advanced learners.
Hindustani Classical Singing with Aparna Shenoy
Aparna Shenoy's goal is to not only facilitate music learning but also to make it a highly enjoyable experience for her students.
She aspires to impart musical knowledge to as many people as possible, with a special focus on children, aiding them in managing life's various worries.
Her teaching primarily encompasses classical singing, including Khayal, Various Sargams, as well as popular Bollywood songs and soulful Bhajans.
Beginners Course
The Beginners Course is tailored for those new to this art form. This course introduces students to Indian classical music through audio, video, and verbal communication. It also provides insight into essential accompanying instruments. Initially, students will grasp the fundamentals of Sargam, Paltas, and the intricacies of Laya (rhythm and tempo) – a vital foundation in Indian music. As the course progresses, students will delve into traditional chanting, Bhajans, and engaging songs. This course establishes a strong musical foundation and fosters a genuine interest in music, setting the stage for advanced courses.
Advanced Level-I
The Advanced Level-I course targets students who have completed the beginner course, developed a keen interest, and are eager to advance their skills. This course offers an in-depth understanding of notes and Taals (tempos), refining these skills through the practice of complex taal-based Paltas. Students will master various Taals such as Teentaal, Ektaal, Jhaptaal, Dadra, Keherwa, and others, crucial for singing a diverse repertoire. Additionally, since Indian music relies on Indian languages and diction, this course will emphasize language and pronunciation. This will facilitate flawless renditions of the chants, Bhajans, and Bandishs taught. Finally, students will be introduced to basic ragas with Bandishs, aalap, and taans, providing an authentic experience of Indian classical music and laying the groundwork for advanced studies.
Advanced Level-II
Advanced students, committed to mastering this art form, are encouraged to enroll in this course. Here, students will delve into complex notes, Taals, and the coordination of both, enhancing their Riyaaz techniques. Thorough training, comprehensive theoretical knowledge of Indian classical music, voice culture, and voice development will empower students to tackle multifaceted compositions and Raagas. This course sharpens skills in self-improvisation in Paltas, Aalaps, and tanas, crucial for becoming a proficient performer. Students will extensively practice Vilambit (slow-tempoed) Taals such as V.teentaal, V.ektaal, V. Tilwada, V. Jhoomra, commonly used for singing Bada khayals. In addition, students will explore semi-classical forms like Bhajans, Natyageet, Bhaavgeet, and more. The course will also provide a basic understanding of Tabla, enabling students to be self-sufficient, self-practicing, and performing vocalists. Upon completion of these courses, students will possess knowledge equivalent to a drop in the vast ocean of music.