Hindustani Classical Singing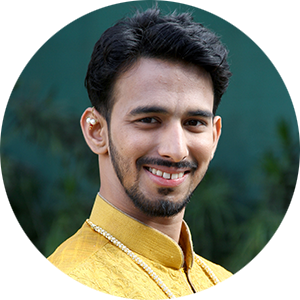 Hindustani Classical Singing
The Hindustani classical singing courses with Raunak Kulkarni are designed for all age groups and for all levels starting from beginners to advance.
Beginners course
Beginners course, as the name suggests, is for the students who are completely new to this art form. In this course, the students will be introduced to Indian classical music through audios, videos and verbal communication and also information of the necessary accompanying instruments. Students will initially learn the basic Sargam, Paltas and Laya (rhythm and tempo) which is a very important base of Indian music. In the later stage, traditional chanting, Bhajans and interesting songs will be taught. This will be a well established base to create interest in music and a strong pedestal for the advanced courses.
Advance level-I
Advance level-I course is meant for the students who have completed a beginner course, developed interest and are prepared to learn and progress further. This course will provide a detailed knowledge of note and Taals (tempos) and they will be perfected by learning and practicing complex taal-based-Paltas. Taals like Teentaal, Ektaal, Jhaptaal, Dadra, Keherwa and more, important taals to sing a wide variety, will be taught in this course. Furthermore, as Indian music uses only Indian languages and wordings, a part of the course will also focus on language and pronunciation. This will help students in singing the further taught chantings, Bhajans, Bandishs, songs perfectly. Lastly, basic ragas with Bandishs,aalap and taans will be introduced to the students to provide the real essence of Indian classical music and will create a foundation for further advanced studies.
Advance level-II
Advanced students who are willing to take this art form seriously and sincerely, can be a part of this course. In this course, one can learn complex notes and Taals as well as their coordination and Riyaaz techniques. Robust training, important theory of Indian classical music, voice culture and voice development will build a student to learn multifaceted compositions and Raagas. Self improvisation in Paltas, Aalaps and tanas, which are essential skills to be a performer, will be polished in this part of learning. Vilambit(slow tempoed) Taals like V.teentaal, V.ektaal, V. Tilwada, V. Jhoomra used to sing Bada khayals and will be introduced and practiced rigorously to be a Khayal singer. Semi-classical forms like Bhajans, Natyageet, Bhaavgeet and much more will also be taught. The course will also cover some basics of Tabla,so one can be a self-learning, self-practicing and a performing vocalist. After completing these courses, one has gained enough knowledge equivalent to a drop in the ocean.