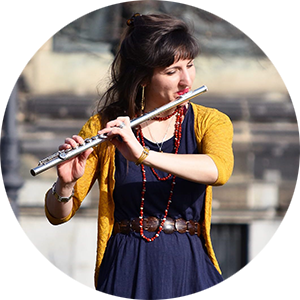 Flautist and teacher for flute
Hortense was born in 1991 in the Dromesko Circus, where her parents were tightrope walkers and musicians. She grew up in this world and began learning the flute with jazz musician Carl Schlosser. After nearly ten years in various music schools and conservatories in the south of France, she moved to Paris. There she studied German language and literature and continued to develop her musical discipline with flutist Aude Challéat. In 2012, she received her Bachelor's degree in German Studies from the University of Paris IV.
Since then, Hortense Rigot has been living in Berlin. She has developed various projects, mainly Latin music, Gypsy Jazz, but also classical music. She has been invited as a guest or participant in many projects. She has been teaching flute since 2014.
Hortense is doing a yoga training in the "French Yoga School" of Paris since 2019. The connection between body, mind and music has always been very clear to her.
Artistic career
Nowadays Hortense plays in different bands: the swing and musette trio "Chocolat" (guitar, flute and double bass); the "Lello Franzen Quartet", (gypsy jazz); the choro quartet "Ixora" (Brazilian music); the quintet "Zé Berlin" (Brazilian music); the duo "Barrio Danzón" (Latin music with classical influence); The quartet Tempo Habana and the band Pasaje Abierto (Cuban music – salsa, son, bolero, etc.)
Through the years as a flute teacher, Hortense has developed her own method for warming up the flute for beginners, and has written a booklet for it. The "first" version of this booklet already exists in German and can be ordered directly from her; a second version is on its way to be published and will be available soon.
Vita at the GMA
Hortense offers flute lessons and can share her experience on Gypsy music, Brazilian as well as Cuban music.
Motivation
Music (and art in general) is a powerful communication tool. It allows people to resonate with themselves and with others, through feeling, the subtlety of the body, without necessarily using spoken language. It gives the possibility of finding a deep place within oneself where there are no barriers, both social and familial. Music liberates, moves, simply leads to life!