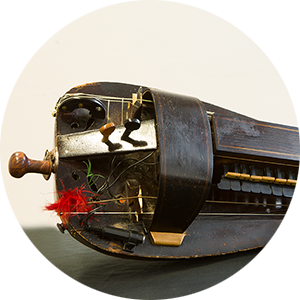 Hurdy-Gurdy Lessons
The hurdy-gurdy lessons with Silke are designed for musicians who already own a hurdy-gurdy as well as for beginners and interested persons without any previous knowledge.
The focus of the lessons lies on learning the specific snoring techniques (rhythmics of the right hand) in connection with dance and drone music from all over Europe. Basic aural training, the recognition of pure intervals and the everlasting reference to the drone tone play a central role, as well as the corresponding rhythm training, the accompanying buzzing (with the melody and independently) and the sovereign playing of odd beats. Preparatory consciousness exercises will help to facilitate personal access at every level of playing and maintain the joy of playing. You can learn the hurdy gurdy with Silke in individual and group lessons.
Learn more about the instrument
The hurdy-gurdy (German: Drehleier, French: vielle) is a European string instrument. The players play the strings over a wheel with a crank, at the same time they pick up melody strings with a keyboard. The smooth wheel is coated with colophony and is like an endless (string) bow. This makes it possible to strike not only the melody strings but also the so-called bourdon strings, which accompany the melody as a root note, sometimes also as a fifth tone. Additionally, gentle chirping rhythms can be played by rhythmically percussive turning. A "buzzing bridge" vibrates on the soundboard of the instrument. This sound combination of keynote, rhythm and melody provides the hurdy-gurdy with its incomparably warm and varied sound.
The hurdy-gurdy is played throughout Europe mainly in traditional folk, dance and baroque music – nowadays also in new music, jazz and intercultural world music.
Teacher
Silke Reichmann de Salas
Origin of the instrument
Europe
More Information
8 years of age or older, individual or group lessons
Languages
German, English, Spanish, French