Jazz Band & Improvisation Course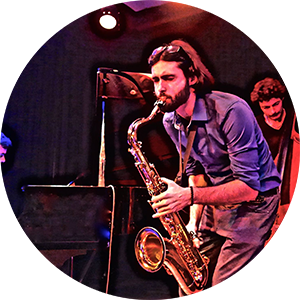 Jazz Band and Improvisation Course
Learn how to play with other people and improvise effectively in a jazz setting.
Develop the skills necessary to join any type of band with confidence.
Playing with other musicians is an essential part of growing as a musician, and with the opportunity of having a coach by your side, your progress will be even faster and more in depth.
You will learn skills and techniques to help you keep time, harmony and melody together. We will also dive deep into understanding how a good solo comes to life.
Improvisation is often thought to be completely random by non-musicians, when in fact it is a very well organized, real-time composition, and it happens together, with your band.
We will go through the ins and outs of creating melodies on the spot, comfortably following harmony and rhythm, listening to each other and developing interplay.
Once the theory becomes clear in your mind, you'll feel free to express yourself through your instrument with ease. You'll start to see and hear "the matrix" in every piece of music and you'll be able to navigate any type of music situation you'll find yourself in, feeling comfortable with every musician that you meet.
Instruments and Music Genres
All instrumentalists and singers are welcome to join the course.
Firstly we will look at traditional, simple harmony, applicable to such genres as Pop, Rock, Country, Folk, Blues, Singer-Songwriter.
We will then delve deep into more complex structures and harmonies, applicable to such genres as Swing, Modern Jazz, Funk, Latin, R&B and all other styles.