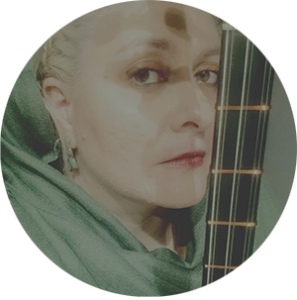 Polyphonic European Singing – Greek, Celtic, Nordic ONE TO ONE
Lamprini Gioti Livieratou (artistic name: Labri Giotto) is a Greek performer, teacher, radio producer and ethnomusicologist. 
She has graduated from Palini Musical Highschool, holds a Diploma in Classical piano from the National Conservatory of Athens and is an alumna BA Music Studies from the American College of Greece. 
In 2006, she went in Ireland to study  MA in Ethnomusicology at the Irish World Academy of Music & Dance (University of Limerick) with the aid of a scholarship from the Attica Tradition Foundation.Her MA thesis was: "Sean-Nós singing style from the West Cork Gaeltacht area", where she concentrated on the singing style of Eilís Ní Shúilleabháin, Iarla Ó Lionáird & Elisabeth Cronin.
She has been taught traditional music & different styles by Elaine Cormican, Eilís Ní Shúilleabháin, Deirdre Scanlon, Mícheál Ó Súilleabháin ,Muireann Nic Amhlaoibh, Bobby Mc Ferrin, Mamak Khadem,Ross Daly, Åsa & Esbjörn Hogmark, Ross Daly, Kelly Thoma, Martha Mavroidi,Mamak Khadem, Veronica Doubleday, John Bailey, Johanna Bölja, Vicki Swan.
She has been a professional musician since 2000 performing in music stages, pubs & concerts all over Greece, as well as teaching piano, singing and theory in Ireland and Greece for more than 14 years.
Between 2007-2008 she was conducting Greek traditional and byzantine music workshops at the Irish World Academy of Music and Dance(University of Limerick) at the MA Ethnomusicology and MA Chant and Ritual song classes.
She has performed at the Acropolis Museum, Cycladic Museum, ERT( 65 years for the 3rd classical program),Athens Celtic Music Festival, Festival Fantasticon,Irish Wings and Paxos Music Festival, as well as in several music stages in Greece, Ireland(IWAMD, Bewley's Cafe Theater), Sweden (Esi Tobo) and Scotland(Cowdray Hall, Blue Lamp) .
She is a pioneer in promoting Celtic and Nordic music in Greece, teaching and performing since 1996(Curfa Gaelic Nordic Choir & seminars).Since 2017-2021, she was the first Greek nyckelharpist in Greece and one of the founders of the Athens Celtic Music Festival (2014- 2019).
The ITMA (Irish Traditional Music Archive) cataloged her in their archives as the first Greek who sang in the Irish (Gaelic) language,  Sean-nós .
In October 2019, she was accepted at the Intercultural Orchestra of the Greek National Opera alternative stage as a nyckelharpa player.
In January 2022, she will teach the Intercultural Choir (Polyphonic song of Europe)at the Global Music Academy in Berlin, as well as traditional singing from Greece, Celtic & Nordic countries.
Vita in GMA

Lamprini Gioti teaches polyphonic European Singingat the GMA since January 2022.