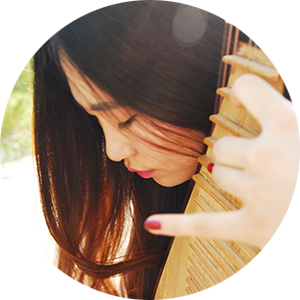 Musician and teacher of the Chinese lute Pipa
Born in Beijing, Lucy Zhao is a Chinese lute Pipa player whom notably performed as a member of the 2008 Beijing Olympics opening ceremony pipa orchestra. While at the China Conservatory in Beijing, Lucy studied Pipa during her Bachelor and toured in the USA, South Korea and numerous Chinese cities as part of the conservatory's orchestra. She also gave a graduation concert at the Beijing Opera Theater Zhengyici in the summer of 2015.
The next year, Lucy moved to Vienna to study cultural management and has since been active in many ensembles and orchestras, as well as free improvisation sessions in Europe. Her solo engagement was also further represented by concerts at the Vienna historical Town Hall as well as the Vienna Mozarthaus in 2018 and 2019. After graduating, Lucy has been working for the music industry in Berlin, where she participated in a project at the Berliner Festspiele in the Gropius Bau in 2020, and for the 2021 ARTE Concert.
Vita at the GMA
Lucy Zhao teaches the Chinese lute Pipa at the Global Music School since July 2021.