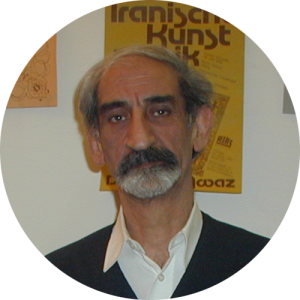 Santur-Artist
Manouchehr Fouladvand was born in Douroud, a city in the western region of the Iran. He did his high school graduation in the state capital Teheran. Then he came to Munich to start his studies in "mechanical engineering" and graduated as well. Manouchehr moved after that to Berlin and teaches besides his job as a self-employeed automotiv expert, persian music theory and the instrument "Santur", a persian string instrument.
Since September 2018, Manouchehr teaches at the Global Music School
Artistic career
Already as a child, Manouchehr developed his love and interest for the classical persian music. Reason for that was also his father, who is a musician. In the age of 12, Manouchehr started finally to learn the traditonal instrument Santur, which he got from his older cousin as a gift.
Later he studied the Santur and persian music theory ("Radid"). He enjoyed further trainings with well-known artists like Mirzaabdullah, Alizadeh and Payvar.
Musical activities
* Co-founder of the iranien culture and artist association in Berlin
* Foundation gruhe Darvisch (Darvisch Ansambla) in Berlin
* Several concerts in Germany, amongst other in the radio with well-known iranian artists like Hosein Alizadeh, Hamid Motebasem, Morteza Aayan and Bahman Rajabi.
* Publication of CDs, for example: Gol O. Bolbol with the ensemble "celeste serena" (old-german and persian music), with own compositions