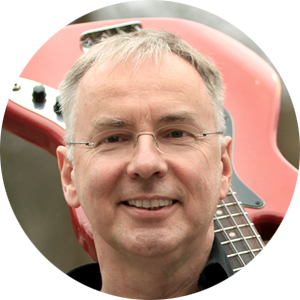 Bassist, composer and teacher
Martin Lillich, self-taught on the electric bass, studied classical double bass in Berlin with Klaus Stoll. He also plays six string acoustic fretless bass guitar. He uses various 5th tunings on his basses. At home in classical music, afro-caribbean, jazz, turkish and related, flamenco, new klezmer. He is a soloist and as a sideman integral part of Berlin and the German jazz scene. From 1995 to 2005 he was teaching at the Berlin Hans Eisler jazzdepartment. Since 2003 bandleader at the show Pompduck & Circumstance. Since 2010 he is part of the Global Music Academy, teaching and performing frequently in Africa.
Activities at the GMA
Bandworkshops, lessons for bass, harmony, keyboard harmony
Motivation
In his career he met some outstanding musicians, teachers and concepts that led to never ending discoveries and improvements of his teaching methods. Traditional and mainstream pedagogy must be questioned regularly, and must be adapted to the ever changing needs of the students.
In the GMA he found a pool of colleagues that combine ideally with his work.