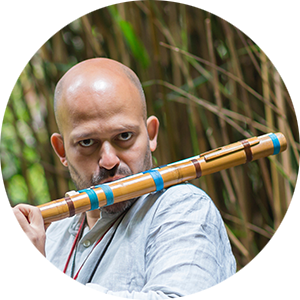 Performer, composer and instrument maker
Mauricio Velasierra is a performer, composer and instrument maker of Latin American wind instruments.
He has developed techniques that allow him to navigate between contemporary harmony, modern jazz and rock in combination with a deep and emotional understanding of traditional Latin American music from the Andes (Colombia, Peru, Bolivia).
Mauricio plays an array of keyless wind instruments such as the quena, sikus and mohzeños. He has developed numerous new techniques over the course of his diverse musical career. He is able to play these traditional flutes in all 12 keys and in all modern and historic scales. This allows him to play in a large variety of ensembles and musical styles. He also uses his voice to harmonise simultaneously with his flute. Furthermore Mauricio Velasierra has also developed an electroacoustic system. This allows him to explore sub bass frequencies and other live effects. Mauricio is constantly reinventing his musical language and creates both acoustic and electronic effects that become the embryonic blocks of his compositions.
Artistic career
Mauricio's musical journey started in Colombia and he has been performing around the world since the age of 12. He specialised in modern Andean music at the same time as studying Classical music. He has toured throughout Europe and internationally, playing at some of the most prestigious venues and festivals. Among other places, he has performed at London Jazz Festival (UK), Manchester Jazz Festival (UK), Umea Jazz Festival (SE), Bimhuis (NL), Rudolstadt Festival (DE), La Cigale (FR) and Royal Festival Hall (UK).
Mauricio has also recorded and toured with his own quintet (Velasierra Quintet). Currently he collaborates with contemporary vocal and guitar virtuoso Heidi Heidelberg with whom he has generated several critically-acclaimed albums under the name Witch 'n' Monk (formerly Bitch 'n' Monk). Furthermore Mauricio collaborates with the post-jazz London scene with musicians such as Seb Rochford and Tom Herbert from Polar bear and Acoustic Ladyland.
As a side-man he has recorded with numerous musicians and composers such as jazz pianist Zoe Rahman, Zimbabwean master mbira-player Chartwell Dutiro and Australian double bassist Nathan Thompson.
Vita at the GMA
Mauricio has been teaching Andean wind instruments Quena, Sikus und Mohzeños at the Global Music School since 2019 . He also plans to establish a Pan-Andean Music Ensemble (more info here).