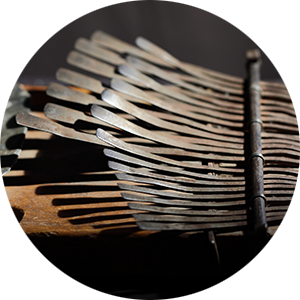 Nyunga Nyunga Mbira group course with Joe
In the goup course Nyunga Nyunga Mbira with Joseph Weinberg we will explore the richness and diversity of Southern African music, especially from countries like Zimbabwe, Mozambique and South Africa. We will learn traditional songs as played by the great Mbira masters as well as popular Southern African songs adapted for the Nyunga Nyunga. The teaching method will be a dynamic blend of traditional and contemporary approaches. As we learn new songs and play together in a fun and relaxed group environment – students will also understand how the different mbiras in the ensemble function in relation to one another, develop fingering techniques and learn how to improvise and create their own variations. The course is aimed at beginners/intermediate beginners so no prior knowledge required to participate.
Learn more about the instrument
The Mbira is an ancient traditional Lamellophone developed by the Shona in Zimbabwe 1000 years ago. In addition to its function as a musical instrument in traditional African music, the Mbira also has a great spiritual significance in certain peoples of Africa. The mbira dza vadzimu consists of 22 metal tongues which are fastened on a wooden soundboard. The tongues are played with the thumb and forefinger of the right hand. It can be played both solo and in ensemble.
Variations of the Nyunga Nyunga Mbira are traditionally found in many places in the Zambezi river valley, but is now popular all over Southern Africa. Its mainstream popularity is often credited to the influence of a Mozambican Nyunga Nyunga player called Jeke Tapera from Tete Province, who introduced the instrument into the Kwanongoma College of African Music in Bulawayo in the 1960s.
Teachers
Joseph Weinberg

Origin of the instrument
Zimbabwe, Afrika
Courses
Nyunga Nyunga Mbira
with Joseph Weinberg