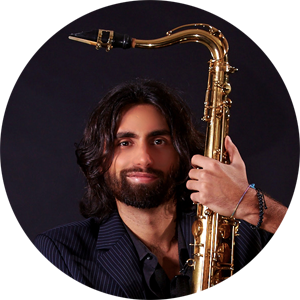 Artistic career
Milo Lombardi is an Italian saxophonist, composer, educator and music director based in Berlin.
He studied classical saxophone and music theory at the G. Rossini conservatory and was already graduated at the age of nineteen.
He then moved to Sydney, Australia, where he performed with the Sydney Wind Symphony Orchestra. In 2009 he left Australia and started touring throughout Europe with his own quartet as well as with other bands, meanwhile studying composition and jazz arranging with Massimo Morganti.
He is currently very active in the international music scene both as leader and sideman. Presenting his own compositions with his band and, as a director/arranger/singer/saxophonist, collaborating with a multitude of diverse ensembles.
In 2014 he published "Going Nowhere (Enjoying the Ride)", his debut album, which was praised for its fresh, melodic sound, and brought Lombardi to the attention of the European jazz scene.
One of the tracks, "Circular Quay", also earned an honorable mention in the 2014 edition of the International Songwriting Competition.
Press quotes
"Seine Finger fliegen nur so über die Tasten, mit acht Tönen pro Sekunde übersteigt er das normale Maß an Virtuosität." – Berliner Morgenpost, Germany.
"… simply, delectably cool." – All About Jazz, USA.
"… a new jazz talent." – Il Resto Del Carlino, Italy.
"Really great saxophonist. Deserves more lights on himself." – Anima Jazz, Italy.
"… refreshing sound." – Alrededor de Medianoche, Argentina.
Motivation 
"Sharing my knowledge and passion for music is one of the great joys of my profession!"