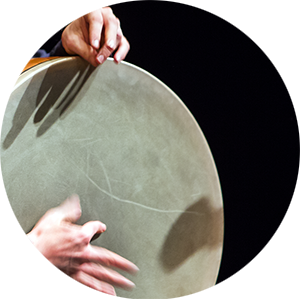 Oriental Percussion
The oriental percussion lessons teach players with basic knowledge under sound technical guidance among other things the splithand technique. The focus is on the frame drum and the tombak, two of the most important percussion instruments in Persian and Central Asian music. The splithand technique can be applied to many other instruments and opens new doors for personal expression. Grooves will be played, Indian as well as Turkish compositions, and pegs and ostinato forms will be learned.
The course is offered as individual and group lessons. Playing styles from the following rhythm cultures can be learned: Turkish / Arabic (Bendir-Mazhar-Riq), Indian (Kanjira), Persian (Daf-TombakTechnik) and Italian (Tamburello).
Know more about the instrument
The frame drum is a drum with a flat frame, usually covered with a skin on one side. It can be found almost everywhere in the world, for example as an accompanying instrument in the Orient: tar, bendir, riq, daf (duff),daire, mazhar, tamburello. Through musicians such as Glen Velez, the playing techniques present in diverse cultures have been combined and thus the frame drum has been developed into a multifaceted instrument that can be used in many musical styles.
The riq is an Arabic tambourine that belongs to the group of single-headed frame drums. Bells are attached to the side of the riq. The riq is used in Arabic folk music, classical Arabic music and also to accompany Oriental dance.
The Udu is traditionally played in Nigeria. The instrument resembles a vase. It has a narrow opening and an additional hole on the side. In the Igbo language, Udu means "jug". A blow on the opening on the side produces a muffled and bassy sound similar to an Indian tabla.