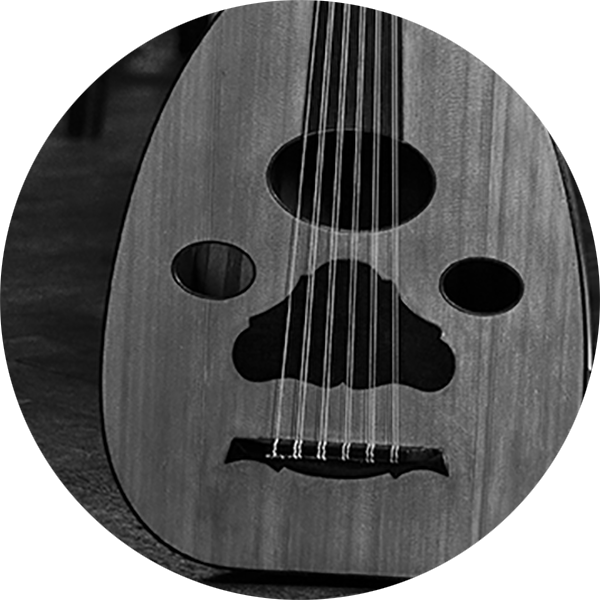 Oud Lessons
Lessons with Bakr
This course will be tailored to the student's needs. For beginners, the student will learn the proper hold of the Oud, and of the Reesha (Plectrum). Furthermore, the student will be introduced to some of the different Maqamic scales, and also play some pieces. There will be a lot of emphasis on intonation in order to build a solid foundation. Both the Arabic and Turkish intervallic systems will be introduced from an early stage.
For more advanced students, the student will learn different virtuosic techniques and learn virtuosic pieces. Emphasis will be on the control of sound, intonation, and cleanliness of the Reesha technique. Furthermore, the student will enhance their improvisational skills (Taksim), and learn the classical progressions of Maqamic improvisation in detail.
Lessons with Mohamed
The oud lessons with Mohamed Askari are suitable for beginners.
In this course the student will learn the main parts of the instrument. Furthermore, the correct posture and intonation is taught in order to be able to play the instrument.
Since the strings are to be played with a long plectrum, the handling of the plectrum will be practiced. Various playing techniques, ornaments and articulations are learned. In the course of the course the participant will get a short overview of the maqam principle, the interval ratio and the different types of modulation. The focus of the course is on improvisation within the framework of the Taksim genre.
Objectives: Presentation of an easy-to-play melody such as from a song or a samai. Demonstration of an approx. 2 minute taksim in a specific maqam with modulation.
Learn more about Instrument
The oud is a fretless knuckle-necked lute. In the Arab world, the instrument is called the "Sultan of Instruments". In Arabic music, the oud has about the same status as the piano in Western music. It has five or six double-choir nylon strings tuned in fourths.