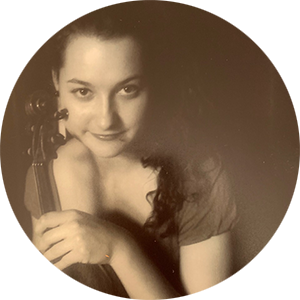 Violist and Teacher for Violin and Viola
Patricia's music adventure began when she was only 2 years old. It was when her aunt (violin player) showed her her violin. It was a lot of fun for Patricia to hold the instrument and to try an play on it. From this moment on, her mum decided to sign her up for music lessons for little children, where she was exploring the musical world. At the age of 7, she had her first violin lesson at the music school, where she continued her education the following 12 years. After that, she studied violin in Berlin and England, where she obtained her highest Qualification- Postgraduate Diploma in Instrumental Performance. While studying, Patricia was very active musically. She took part in loads of solo-, chamber- and Orchester Projects and Competitions. Later on she developed a special relationship with new music to later on play the violin in her duo project-Mein Haus, where she also composed music.
Next to classical music, Patricia plays also Pop, Rock, Jazz and Experimental.
Vita at the GMA
Patricia Stepien teaches violin and viola at the GMA since October 2022.