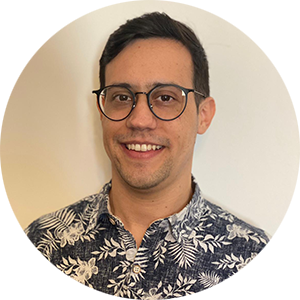 Music teacher, drummer and percussionist
Born in Rio de Janeiro, Patrick started his drums lessons when he was twelve to join the school's band project.
In 2008, after learning many different music genres, he got more interested in Brazilian music and decided to attend a graduation course at Federal University of the State of Rio de Janeiro (UNIRIO). There, he not only got a wide music formation, but discovered his passion for music education.
For the last ten years, he's been teaching music to Elementary, Middle and High School students at a jewish school in Rio de Janeiro, where he also used to conduct band rehearsals and to give guitar, keyboard, bass and drums lessons.
As a musician, he played the drums in a couple of musicals and in rock'n'roll, samba-rock, reggae and blues bands. Besides that, he studied the pandeiro and other Brazilian percussion instruments at Casa do Choro, one of the main music schools focused on choro and samba, and played in some "rodas de samba" as well.
In 2018, Patrick got his Master degree in music education at UNIRIO and started to design his own courses and music programs. He's constantly improving his percussion skills and he likes to study music history and to play the piano.
His motivation is to never really stop learning!