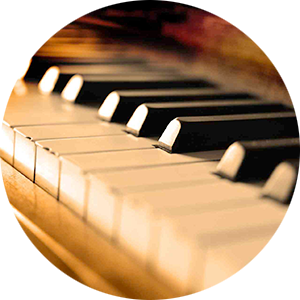 Piano lessons
Jazz, Blues and Soul Piano with Lito Tabora
The piano lessons with Lito Tabora cover four topics.
The first topic is piano harmony. Here we deal with topics such as voicing, substitution, block chord, slash chord, open and closed harmonies, inversion, voice leading, polytonal harmonies, consonant and dissonant harmonies and how to combine the two.
The second topic is improvisation. You will learn scales, keys and their relation to chords, adaptation to different musical environments, progressions and melodies, symmetric scales and their use, phrasing, sense of time and tonality.
The third topic is the explanation of piano accompaniment, through dynamics, stops, background lines, ostinatos, organ point, walking bass and bass counterpoint.
The Instant Arranging, the fourth topic, deals with intros, interludes, endings, arrangement forms, ostinatos, atmospheres, instant reharmonization, modulation and vamps.
Classical Piano with Santiago Mútolo Terzano
Santiago's piano lessons are suitable for children (from 4 years onwards) and adults of all ages and levels of experience. Adult beginners who dream of the instrument they did not play as a child are especially welcome. The lesson plans and objectives are individually tailored according to your wishes and playing experience.
For the younger students we will concentrate on acquiring the musical principles on the basis of classical music with constructive learning. The aim of the lessons is to develop a solid and strong foundation in order to give the students* the musical skills to express themselves through the instrument.
Since the first class, the relationship between a player and their instrument is intimate and personal. In this regard, Santiago usually asks older students: "What are the 10 works, pieces or songs that you have always dreamed of playing?"
From this we will draw up a personal work plan and work towards developing a solid technical basis necessary to achieve your personal goals.
The lessons cover piano technique, harmony, ear training and music theory.
Salsa & Latin Jazz Piano with Daniel Stawinski
SALSA PIANO: The way the piano is played in Cuban and Salsa music is based on the so-called Tumbaos (or Montunos). It is fundamentally different from the way the piano is played in classical music or jazz. A large part of the lessons is dedicated to the step-by-step learning of the typical playing patterns with their numerous variations. In addition, Daniel Stawinski familiarizes the students with the other instruments of a typical salsa ensemble in order to prepare them optimally for making music and playing in the ensemble. The numerous musical styles within Cuban and Salsa music are also covered.
LATIN JAZZ PIANO: The lessons in Latin Jazz piano deal with the typical improvisation techniques of traditional Cuban music. Through numerous exercises focussing on rhythm as well as on harmony and melody, the students acquire the ability to improvise within the complex rhythms of Afro-Cuban music in a confident and authentic way.