Rhythmic Reading & Writing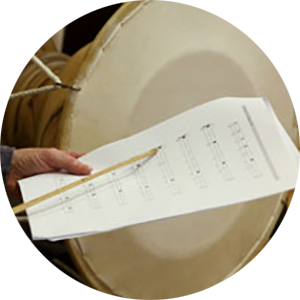 Individual and group lessons
The course "Rhythmic Reading & Writing" covers all topics related to the rhythmic notation of music.
The Global Music Academy has gained a considerable degree of international experience in this field over many years and has developed a comprehensive and well-proven curriculum.
The course "Rhythmic Reading & Writing" is both interesting and fruitful for beginners in this area as well as for already experienced musicians and music teachers. Furthermore, it is suitable for all those who want to prepare for studies or an entrance examination at a university of music.
The course is part of the "Foundation" Program of the Global Music Academy. However, it can also be booked independently. The course provides a quick and easy way to learn and practise how to read and write rhythms of all kinds with confidence. The course also shows the weaknesses and strengths of the Western notation system and its alternatives.
The main topics covered in the curriculum are:
– Basic assumptions of western rhythmic notation
– Counting methods
– the correct transposition into time signatures
– the binary notation system
– the ternary staff
– Mixtures and display possibilities of binary and ternary notes
– odd time signatures
– changing time signatures
– rhythmic modulations and their representation
– X-Tolen
– Swing/Shuffle interpretation of syncopated notes
– Scat syllable interpretation
– Three-Syllable Interpretation
– Reading, interpretation and creation of charts
– Transcriptions of rhythms and pieces
– various exercises, for fluent leaf reading and leaf playing of rhythms
– Limits of Western notation
– Alternative ways of notation (e.g. Indian rhythmics)
As a supplement to the course "Rhythmic Reading & Writing", the Global Music Academy also offers the course "Rhythmic & Body Percussion".
The course "Rhythmic & Body Percussion" offers, for example, rhythmic independence and coordination that can be experienced physically. Body Percussion is an ideal opportunity to put the knowledge acquired in the "Rhythmic Reading & Writing" course into practice in a tangible way. Both courses are synchronised in both content and time.
In the combination of both courses you will learn everything you need to know about rhythm.