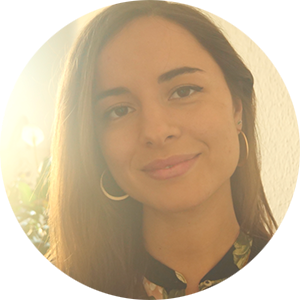 Singer, composer and Vocal Coach
Sara Persico is an Italian singer and composer based in Berlin. In 2015 she completed her Bachelor of Arts at the Conservatory of Naples and then continued her studies with Diana Torto at the Conservatory of Bologna where she received her Master's Degree in Jazz Performance with the highest distinction in 2018. Between 2016 and 2019 she grew an interest in becoming an educator and developed her own teaching methods while giving jazz and pop singing lessons in music schools in Bologna and Milan to both adults and children.
Among the topics:
Healthy, comfortable singing posture
An understanding of breath control
A healthy, sustainable singing technique, including: A thorough understanding of both the low and high vocal registers (chest and head voice)
An understanding of solfege syllables (or their numerical equivalent)
Proper diction with an emphasis on vowel pronunciation
An ability to read music
Basic ear training skills, such as the ability to aurally identify basic musical intervals and rhythms
Exposure to multiple genres and styles of vocal music
Practice in memorization and song preparation for performance
Performance experience (such as recitals, showcases, etc.)
Artistic Career
Sara has already collaborated with many internationally acclaimed artists and maintains a regular performance schedule all over Europe.
In November 2018 she has been selected for the Temp Studio multimedia residency in Lisbon (PT), where she presented her solo performance 7ST for voice, electronics and screening of videos. Among her collaborations, the performance GOLD directed by Francesca Grilli premiered at 40° sopra la Performance and Santarcangelo Festival in 2018. In 2019 the duo with Ignacio Córdoba debuted with a tour in Germany and Poland, while in May 2020 they released their first album for the Italian label Luminance Records. Her composition Superficie has been exhibited at Fondazione Sassi in Matera (IT). She released the album Ruh in October 2020 in collaboration with Melih Sarigöl for the label Base Materialism (Newcastle). Sara has been selected for the residency Amplify Berlin at Acud Macht Neu.
Sara presented her work during several tours in Europe; she performed in venues and festivals such as Bologna Elettrica, Discomfort Dispatch, Geografie del Suono, Multiversal, Bologna Jazz Festival, Napoli Teatro Festival, Santarcangelo Festival, Damas Lisboa, MultiMadeira, Zaratan Arte Contemporanea, O Salgado Faz Anos Fest, Vorspiel, Radical DB, LIFE Libertas Festival, among others.
Vita at the GMA
Sara Persico is voice teacher for pop and jazz singing at the Global Music School since November 2021.