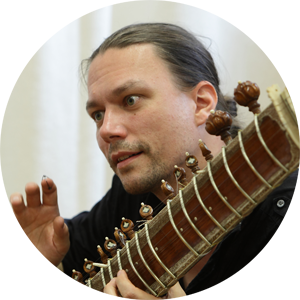 Sitar and raga music 
Sebastian Dreyer is one of the few European instrumentalists dedicated to Indian raga music in its traditional form. He learned the art of playing sitar in Berlin, Jaipur and Kolkata. Through studies with well-known artists as well as regular stays in India he has become an accomplished musician.
Artistic career
His musical education began in 1997 under the guidance of Gisela Tarwitt, who had studied with Ghasi Lal Sharma in Jaipur. Since 2003 he has been learning from Partha Chatterjee, a disciple of Nikhil Banerjee and Ali Akbar Khan. He received additional lessons from Dhrupad singer Amelia Cuni and sitarists Gaurav Mazumdar and Subroto Roy Chowdhury. Under the influence of his teachers, he has developed his individual style, in which he combines the technical possibilities of the instrument with expressive means of Indian classical singing.
In addition to his musical education, he studied Comparative Musicology and Indian Philology at the Free University in Berlin.
Sebastian Dreyer performs regularly in Germany, his concerts have also taken him to Poland, Switzerland, the Czech Republic, Austria, Russia, Hungary, India and Indonesia. Since 2006 he teaches through workshops and regular classes at various music institutions and on a private basis. He has participated in several television, cinema and theater productions and collaborates with singers, instrumentalists, dancers, actors and music ensembles of various genres. Since 2007 he is a language tutor for Hindi, i.a. at the Humboldt University in Berlin.
Motivation
"Playing the sitar is not just operating an instrument. Every interpreter of classical raga music 'sings' through his instrument. The raga music has been conceived vocally and also has been interpreted mainly vocally in India for a long time. The soloistic raga interpretation on instruments such as sitar, sarod and bansuri is a rather recent development. Thus, all classical musical instruments must be able to implement the features of classical singing. Also the sitar is just a musical tool to bring the music from the inside to the outside. Therefore, the vocal character of the music, in addition to the necessary technical aspects, has a central place in my teaching."
Course
Sitar
Language
German, English