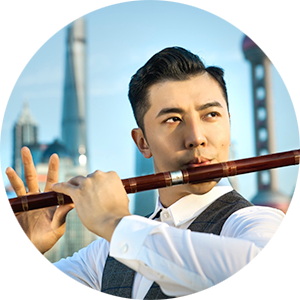 Flutist and teacher for Dizi (Chinese bamboo flute)
Born in Wuhan, Tao Ye began piano lessons at the age of five and studied bamboo flute playing at the age of ten at the Shenzhen Art School, where Li Yundi was also studying. At 17, he went to Hangzhou to further improve his skills under one of China's best flutists, Du Rusong. At the age of 19, Tao Ye passed the entrance examination to the Shanghai Conservatory of Music – one of the best music conservatories in China. There he studied under the bamboo flute virtuoso Zhan Yongming. At the age of 23, he began a master's degree in bamboo flute at this college.
At the same time, he joined the band White Jade, whose aim was to combine traditional Chinese music with modern electronic music. The self-titled first album in 2012 was followed by a three-year national and international tour of more than 20 cities in China as well as Canada. Chinese media from various fields took notice of Tao Ye and he was invited to be a guest performer on major TV shows such as Song of China, The Voice of China and Chinese Idol, among others.
Shortly after completing his master's degree in 2014, Tao Ye founded a small music training centre in Shanghai for children and adults interested in learning a musical instrument. To broaden his horizons, he decided to move to Germany at the end of 2016 and start a new life.
About himself
Since my childhood, I have always received a professional musical education that must rank among the most rigorous and traditional in the world. Solfeggio, music theory and harmony were integral parts of my education. The study of the bamboo flute is generally very traditional and the style when performing a piece on stage must be accomplished to perfection. At most, the movement of the body must involve a slight swaying back and forth in accordance with the accompanying music. However, when I took up my Master's degree, I began to develop my own views. Perhaps this was a reaction to the highly regulated education or the long suppression of my own creativity. More and more I felt the desire not to simply perform a piece to perfection on stage; I no longer wanted to play purely traditional music. I think music is one of the many forms of artistic expression. Music is more than just what ears can hear. Rather, it is also something visual that the audience can see in front of them. For this reason, I think one should also provide visual entertainment for the audience and make the performance a real pleasure. Therefore, during my time in the band "White Jade", I always tried to contribute to an appealing overall impression with daring costumes in combination with artwork and lighting effects, and the music was a mixture of traditional Chinese music and electronic music. In this way, we wanted to attract a young audience to traditional Chinese music. I hope to have more opportunities to try out different musical styles and expressions in the future. My personal style is mainly a mixture of traditional Chinese music, electronic music and singing. I would like to have the chance to make more music in Germany that the people her enjoy. I also want to bring Chinese culture closer to the people here.
Vita at the GMA
Tao Ye teaches Dizi (Chinese bamboo flute) at the Global Music School since Juli 2021.