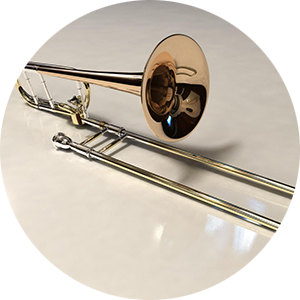 Trombone lessons with Gerald Meier
Lessons can be focussed on classical or jazz style trombone playing and are open for beginners from about 7 years old, as well as advanced players of any age. Individual teaching is preferred but small group lessons are also possible. Previous knowledge is not required but experience of playing another instrument or singing can be helpful.
Through his wide range of experience as a teacher, musician, arranger and conductor, Gerald Meier provides a versatile education in his lessons, which can also cover other areas of music making, listening and understanding (following Hanns Eisler: "Those who understand only about playing the trombone do not understand anything about that either"). Learning how to read music is useful but not absolutely essential.
The trombone in the ensemble
The trombone is almost incomparably versatile and sought after as an ensemble instrument. It features in the orchestra, Bigband, jazz-, soul-, latin- and salsa- bands as well as in classical brass ensembles. Due to its similarity in sound to the human voice, the enormous richness of sound colours and phrasing styles as well as its great dynamic range, there are hardly any limits to where the trombone can be used. As well as being played lyrically, it can also sound aggressive or assertive.
In addition to the most commonly used member of the trombone family, the tenor trombone, there are also the alto and the bass trombone (the soprano trombone is only rarely used). The whole family of instruments has existed in approximately their current form for more than 500 years and is therefore significantly older than the other orchestral wind instruments.
Several related instruments can also be taught. Gerald Meier is additionally a passionate euphonium and baritone player. Bass trumpet and valve trombone are also part of his collection.
Teacher
Gerald Meier
More Information
Beginners and advanced
From 7 years of age
Additional Instruments
Alto Trombone
Bass Trombone
Valve Trombone
Baritone
Euphonium
Bass Trumpet
Tuba