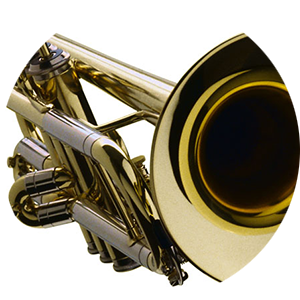 Trumpet lessons
In the trumpet lessons led by Philip Sindy you will be fully prepared for your solo playing, wind section or band ensemble.
The main emphasis of the course is on the functional performance on the trumpet to provide a universally applicable basis for making music in a wide variety of musical styles. Whether big-band wind section, pop, funk, or jazz ensemble over afrobeat to timba – Philip Sindy will make you familiar with the different demands. During your lessons you will get to know the spectrum of requirements through various exercises. Concerning the choice of pieces and stylistics the trumpet lessons offer a balanced mix. The course leaves a lot of room for your wishes and your taste in music.
Learn more about the instrument
The modern trumpet has three valves. Its popularity is based on the many different ways of playing it. Trumpets are an important part of all genres, especially Jazz. The trumpet is one of the most important melodic instruments in the classical New Orleans Jazz line-up. In pop music, soul and funk, the trumpet is often used in a wind section with trombone and saxophone where it sets important accents.