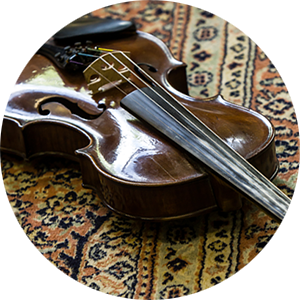 Violin Lessons
Whether you are a beginner, professional, returning to the violin, child or adult, our violin lessons are suitable for all levels and ages. You are welcome to expand your (violin) horizons at the Global Music School.
In our lessons, beginners and advanced students can learn, develop and expand their classical violin playing skills. Beyond that, we also offer more experimental approaches in our courses. These include improvisation and the electronic modification of the violin sound.
Learning the Violin with Beatriz Chinaider
The course aims to help build a solid foundation and set up important pillars for violin technique. The course teaches how to understand step by step to improve violin technique.
In the violin course, the beginner student will learn how to hold the violin correctly and the bow. In addition, you will learn bow techniques such as detachét, spicatto, staccato and bow distribution and other articulations such as vibrato.
During the course the student will learn scales and arpeggios, learn to read sheet music and how to study correctly at home in order to improve his violin skills. The methods used will be Carl Flesch for scales, Mazas and Kreutzer and the repertoire of classical music in addition to Brazilian music.
Violin and Viola Lessons with Patricia Stepien
Patricia has 10 years expierience in teaching violn. She teaches all ages ( children from 6 years of age) and levels. Her goal is to always give a student-oriented lesson. Every person wants to achieve something else through music. For Patricia the most important thing is to understand it and work on it.
Her teaching methods are based on patience and friendly cooperation.
With Patricia one can learn improvisation, harmony, Pop/Rock/Jazz, Ear training and playing without notes.
Learn more about the instrument
The violin in today's shape was invented and built with the beginning of the 16th century in North-Italy. The layout and the basic shape of the instrument didn't changed till today. The violin is the soprano instrument of the family of the string instruments. Since older times till nowadays, the violin is an essential part of an orchestra and is besides the piano und the guitar, the best-known instrument of the western music culture.
The characteristics of a violin are:
*Roundness of the corpus with edges in the middle part
*Vaulting of cover and bowl
*Worm above the pegbox
*Two sound holes
*Four strings in fifth tuning: g, d, a, e
The violin exists out of approx. 70 pieces. The bottom and frames are built out of maple, while the cover is made of spruce wood. Head and throat are also out of maple, ebony is used for the fingerboard.