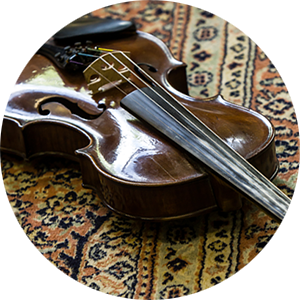 Violin Lessons
Whether you are a beginner, professional, returning to the violin, child or adult, our violin lessons are suitable for all levels and ages. You are welcome to expand your (violin) horizons at the Global Music School.
In our lessons, beginners and advanced students can learn, develop and expand their classical violin playing skills. Beyond that, we also offer more experimental approaches in our courses. These include improvisation and the electronic modification of the violin sound.
Violin and Viola Lessons with Alexina Hawkins
The classes with Alexina Hawkins are suitable for beginners and advanced students.
Motivation of Alexina
My goals as a teacher are to encourage musical curiosity, understanding and enthusiasm, as well as technical ability, that enables my students to become independent musicians. I am interested in developing a solid technical foundation based on natural and easy movements, and a keen aural sense, both of which support progress and longevity in the player. I will adjust my approach and the levels of structure, technique and repertoire depending on the student's age, needs and goals. I am offering single lessons, which can include technical exercises and studies, violin and viola repertoire, exam preparation and improvisation, as well as aural exercises.
I am a passionate chamber musician and recognise what a crucial role this plays in one's musical development, so I am also keen to help my students establish small ensembles and provide coaching to them.
String Ensemble Lessons
We also offer string ensemble lessons if students are interested. In addition to individual lessons, students can further develop their skills and learn to play together in an ensemble.
Learn more about the instrument
The violin in today's shape was invented and built with the beginning of the 16th century in North-Italy. The layout and the basic shape of the instrument didn't changed till today. The violin is the soprano instrument of the family of the string instruments. Since older times till nowadays, the violin is an essential part of an orchestra and is besides the piano und the guitar, the best-known instrument of the western music culture.
The characteristics of a violin are:
*Roundness of the corpus with edges in the middle part
*Vaulting of cover and bowl
*Worm above the pegbox
*Two sound holes
*Four strings in fifth tuning: g, d, a, e
The violin exists out of approx. 70 pieces. The bottom and frames are built out of maple, while the cover is made of spruce wood. Head and throat are also out of maple, ebony is used for the fingerboard.