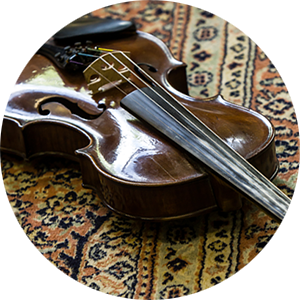 Violin lesson
It doesn't matter if beginner, advanced player, adult or teenager, you can learn and improve to play the violin at the Global Music School. Violin lessons could start from the earliest age on. You are happily invited, to learn more about the instrument and to join our classes.
In our violin lessons you can learn, improve and professionalize your classical play of the violin.
Furthermore we offer as well a different more experimental access to play the violin. You can learn to improvise on the violin and to electronically modify the sound of the violin.
Sting ensemble lesson
We offer for those interested in as well the possibility to play together with other sting instruments in an emsemble. This enables the students of individual lessons to expand their knowledge and to learn how to play in a group.
Learn more about the instrument
The violin in today's shape was invented and built with the beginning of the 16th century in North-Italy. The layout and the basic shape of the instrument didn't changed till today. The violin is the soprano instrument of the family of the string instruments. Since older times till nowadays, the violin is an essential part of an orchestra and is besides the piano und the guitar, the best-known instrument of the western music culture.
The characteristics of a violin are:
*Roundness of the corpus with edges in the middle part
*Vaulting of cover and bowl
*Worm above the pegbox
*Two sound holes
*Four strings in fifth tuning: g, d, a, e
The violin exists out of approx. 70 pieces. The bottom and frames are built out of maple, while the cover is made of spruce wood. Head and throat are also out of maple, ebony is used for the fingerboard.