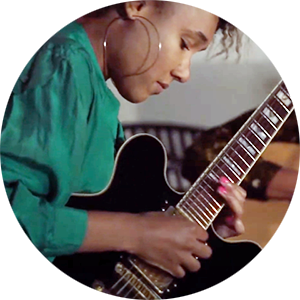 Guitarist, Composer and Teacher for Electric Guitar
Yamirah Gercke is a Berlin based guitarist who writes cinematic Jazz Pop music. She has established herself in the German music scene as being an in demand guitarist and composer. She was born in Boston MA, but raised in Berlin into a colorful musical household where she developed her guitar abilities at an early age. Listing to Wes Montgomery led her to play electric guitar. She studied at the University of Northern Colorado and Berklee College of Music at which she earned her Bachelor of Music in Performance on Guitar with an emphasis on Composition.
She teaches Jazz and Pop Guitar as well as or in combination with Composition / Songwriting. She has teaching experience in all ages and adapts her lessons to each individual student.
Artistic Career
She has released albums in Germany with the Band Bad Ass Freaks "Neighbors" as well as her own Projects "Pressure" and "Nowhere Local". The song "Pressure" has been successful and gained notoriety with the music video and won awards such as Award Winner of Indie Visions Film Festival. Her music is a mixture of instrumental Pop and Jazz.
Relevant musicians she has played with are Sara Hartman, Fem Jam Collective, Enivrance Collective, Kamila Csenge Quartet and Mariama.
Her music has brought her to a plethora of places. Besides her studies she experienced New York, London and Budapest. In collaboration of musical endeavors, gigs, and recording sessions Soft Rondon, Ben Eunson, Balazs Zalan Szabo where the highlights of that time. Currently she is establishing the Record Label "Fat Banshee" to change the Music Industry for the better.
Motivation
Yamirah Gercke lives for the music and guitar. She loves being creative and to share her vast knowledge of music with other people. As Nietzsche said: "Without music life would be a mistake."
Vita at the GMA
Since December 2020 Yamirah Gercke teaches Guitar and Composition at the Global Music School.