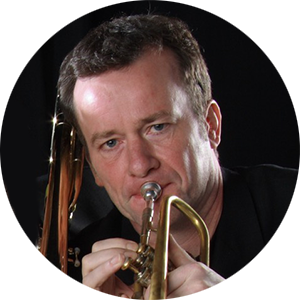 Trumpet teacher
Rainer's teaching is based on the latest knowledge about playing the trumpet and the necessary posture and inner attitude. I value eye level in all directions and focus primarily on the musical interests of the students. Thanks to a holistic, interdisciplinary approach to thinking and practising, playing the trumpet can be experienced as something easy and, contrary to common belief, the trumpet can be experienced as an easy instrument that anyone can learn.
After studying trumpet at the Berlin University of the Arts, he worked as a theatre musician at the Theatermanufaktur, the Theater des Westens, the Friedrichstadtpalast, the Deutsches Theater, the Hans-Otto-Theater Potsdam and the Neuköllner Oper.

 Participation in numerous projects and bands, CD productions, film scores, concerts and radio productions (SFB/RBB/Jazzradio, WDR, BBC, Radio France and others).

 Many musical tours with the Goethe Institute. Author and composer for the AMA publishing house and publication of the extensive instrumental teaching work "Trumpet – Playing, Reading, Improvising in 12 Keys" with CD to play along.