News
Cooperations
A cooperation of the Förderverein Naturpark Barnim e.V., the Gobal Music Academy Berlin and Astrid Ann Marie Pollmann
Music "Between world and time" Duo MARITACA in the Trichter
December 9, 2023 19:30h
Catarina de Paula Borba (BR) – vocals, berimbao, pandeiro
Silke Reichmann de Salas (DE) – hurdy-gurdy, flute, vocals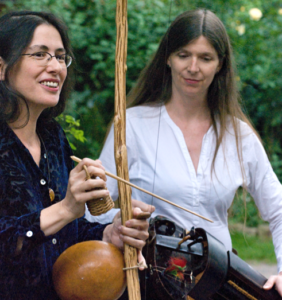 VVK 18€ / AK 21 € Tickets at +49 30 97000725
or and here you can get tickets
GLOBAL MUSIC goes DIGITAL
we are extremely happy to announce that we now have some new live streaming on our Youtube-Channel globalmusicberlin. See attached flyer for details.

Do you play guitar, drums or violin and want to experiment with your instrument in a new cultural context? Then let yourself be inspired in the following picture gallery, grab your instrument and take a dive into the unknown!
At the Global Music School, many exciting surprises await you. Here are a few impressions!