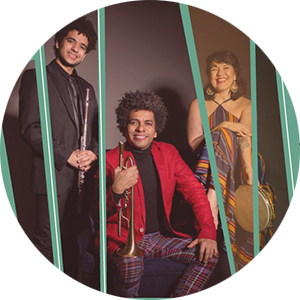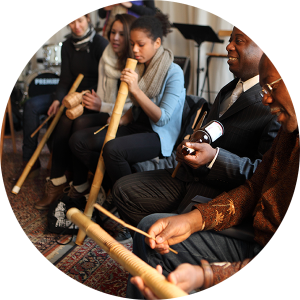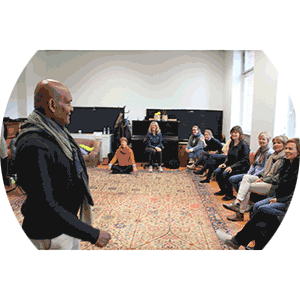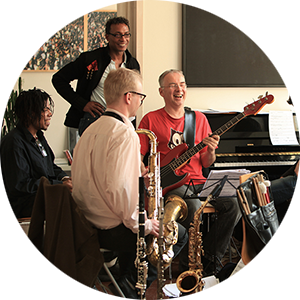 Die Welt der Musik bei uns
Die Workshops der Global Music School finden unter Anleitung versierter Lehrer und Musiker aus dem In- und Ausland statt. Vergangene Veranstaltungen waren u.a Workshops in Arabischer Musik, Afrokubanische Perkussion aus Havanna, Flamenco für Alle und Angolas Rhythmen.
Aktuell
 Workshop-Reihen: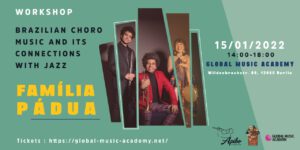 Workshop – Família Pádua
Brazilian Choro Music and it´s connections with Jazz
Daten: 15.01.2022, 14h-18:30h (30 Minuten Pause)
Preis:
45€ early birds bis 04.01.22 | 55€ regulär 05.01.22
20€ Schüler der GMS/GMA und Zuschauer
Payment: IBAN: DE33 1005 0000 0190 4266 59
(Verwendungszweck: WS Brazil + Name)
SUMMARY:
This workshop is intended for musicians of all levels and all instruments based on the pedagogy of the teacher-researcher Antônio de Pádua. The objective is to stimulate musical practice in an organic way.
OBJECTIVES:
– Definitions of the Choro genus, choro culture in Brazil and the relation with Jazz
– Experiences of syncopes of the Polka / Walz / Maxixe / Maracatu / Forró / Baião
– Creativity as a priority and musical perception to improvise in Brazilian Music
CONTENT:
-Overview and context of Brazilian music and its many styles: bossa nova, samba jazz, forró & choro
– Improvisation: arpeggios and scales: what is the Brazilian accent?
– Interpretation : analysis of different styles to deepen the Brazilian phrasing
PREREQUISITES:
Participants should be able to play their instrument and either read music or have experience with playing by ear.
No previous knowledge of Brazilian music required.
Beginners can take part as spectators
Video

Anmeldung: https://global-music-school.net/de/kursanmeldung/
Solltest du Interesse an einem Instrument, Gesangstil oder Tanzart haben und verfügst nur über ein kleines Zeitfenster – wie z.B. ein Wochenende -, können wir für dich gerne ein Workshop organisieren. Melde dich einfach bei uns!