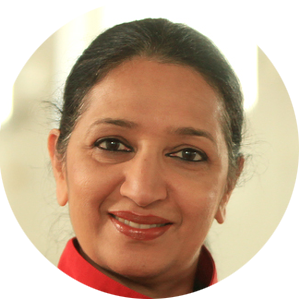 Dancer, choreographer, master teacher, Certified Laban Movement Analyst (CLMA) and movement researcher
Born in Pune, raised in Mumbai and Bangalore and living in Berlin, Germany since 1977, she was trained from early childhood in the solo dance theatre forms of Bharatanatyam and Kuchipudi and classical Carnatic music, completing Karnataka State Dance and Music Exams in 1972. Quest for knowledge have taken her to legendary masters such as Dr. Vempati Chinna Satyam (Kuchipudi), Guru Kalanidhi Narayan (Abhinaya) and Guru Jayam (vocal). Further studies in the West include Yoga, Breathing Therapy (Middendorf), a Certification in Laban/Bartenieff Movement Analysis (IMS Movement Studies Program, USA), a Certification in holistic Fascia Training, and academic research on movement, embodiment, cognition and emotions (Masters and Ph.D at the Europa University Viadrina in Frankfurt/Oder).
Rajyashree's five decades of performing, teaching, lecturing and conducting workshops in India, Europe and USA include
1) several evening-filling solo performances with live accompaniment since the age of nine,
2) major classical-innovative multinational stage productions and commissioned work with international artists of various genres that include numerous signature productions and choreographies that have been staged with grants from German state and cultural institutions or as commissioned work,
3) a 14-year successful course in Bharatanatyam at the Community College Steglitz (1981-1994) leading to the launching of her Academy for Performing Arts in 1993 with branches today in Lithuania,
4) founding of Dance Ensemble Rasika in 1995 as a performing platform for upcoming dancers, and the Rasika Dance Theatre International in 2003 to promote classical-innovative cross-cultural artistic work,
5) numerous lectures, lecture-performances and workshops at universities and international conferences across the globe,
6) various publications in German and English, including academic research papers, and
7) TV, Radio and Newspaper interviews in Germany, Lithuania and India, the latest an article in the Press publication of the German Olympic Sports Confederation, and a feature in RBB.
In 2011 Rajyashree integrated her courses into the Global Music Academy. She brings into her courses a pioneering artistic work she has developed through her decades of quest and explorations. It is a unique blend of traditional and modern means of transmitting the deep knowledge entailed in the classical traditions, of art and science, stage craft and wellness, and much more. Central to this work is a movement analytic approach which is proving to be most effective in dance training, as also the participants feedback reveal.