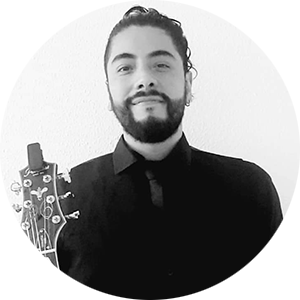 Guitarist and Composer
Adrián is a guitarist and composer born in Mexico City. He began his classical guitar studies at the age of 11 with great teachers like Rubén Joelson as an example among other names. He finished his university career as a guitarist in the area of popular music and specialized in jazz guitar with a master class in Austin, TX.
After his studies, he focused on his own jazz project with his Mexican band, which resulted in two discographies. Adrián is currently an active musician performing with different projects and as a soloist in different forums, jazz festivals and popular music in Mexico and Europe.
Motivation
His studies in classical guitar as well as his career and specialization in jazz guitar give Adrián great versatility as a performer and teacher. He teaches areas from classical guitar composers such as:
– Tarrega, Fernando sor and Carulli among others,
and Latin American Folklore such as:
– Mexican music (huapangos, polkas, sones)
– Brazilian music (choros, samba)
– bossa nova
– Venezuelan music (joropo, Meringue)
– Peruvian music (landau, celebration)
– Argentine music (sambas, chacareras, tango)
– Cuban music (sones, boleros, danzon).
The goal of Adrian is to share the same motivation with his students who want to immerse themselves in the area of composition, improvisation, and jazz rhythms
Vita at the GMA
Adrián Flores Ibáñez teaches acoustic guitar (Latin jazz) at Global Music School since 2020.