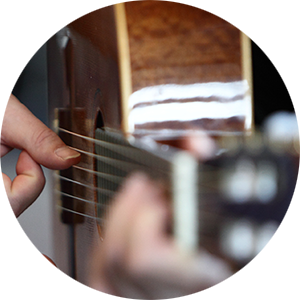 Guitar Lessons
The Global Music School offers guitar lessons for acoustic guitar, electric guitar, flamenco guitar and Latin-American & Brazilian guitar.
Latin Jazz Guitar with Adrián
The guitar lessons with Adrián are aimed at beginners, intermediate and advanced players. The course is personalized to acoustic and electric guitar. Adrián develops an individual study plan for each participant, based on personal needs and focusing on each student's skills.
You will learn to execute jazz harmonies and improvisations on Latin American music (Mexican, Cuban, Peruvian, Venezuelan, Brazilian, Argentine music, etc.) and create your very own sound.
These topics are offered:
– Scales
– Chords and their construction
– Technique both hands
– Improvisation
– Rhythmic accompaniments
– Score analys
Jazz Guitar with Chester
Harlan's teaching focuses in his acoustic guitar lessons on the development of all the necessary tools and techniques that will allow the student to gain access to the realm of jazz improvisation, in a meaningful and unique way. Throughout the studies of songs from all over the world as well as jazz standards, he will gain a very wide sense of music as a universal language and nourish his inner ability to be creative in the present moment. Sometimes unconventional, Harlan's approach draws links and connection across many artistic expressions so to create a fertile ground for the student to be able to reach his full potential and find his own personal musical voice.
Classical Guitar with Peer
The acoustic guitar lessons with Peer are for children (from 10 years of age), teenagers and adults and are aimed at both beginners and advanced players.
Even beginners who do not have any knowledge of guitar or sheet music are welcome. The music pieces and exercises are chosen individually and according to the student's learning progress, so that each student becomes step by step confident in playing the classical guitar.
During the lessons you will learn guitar chords and fingerings, you will play simple melodies and pieces of music, acquire the basics of notation and/or work on various classical solo pieces.
Learn more about the acoustic guitar
The sounds of the acoustic guitar is caused by plucking or hitting the strings and amplified by the body of the guitar. Of particular importance for the sound are, inter alia, the quality of the wood. The acoustic guitar usually has six strings and is usually covered with nylon strings. It has a warm sound and is very suitable for Flamenco, Jazz, Brazilian music and Pop. The first concert guitars of today's size and design can be found in Spain from the middle of the 19th century. One of the most important luthiers was Antonio de Torres. He enlarged the baroque guitar and achieved an instrument with greater assertiveness, more dynamics and a more intense sound color. The name guitar derives on the one hand from the Persian "Târ", a 4000-year-old long-necked lute and on the other hand from the Greek Kithara.