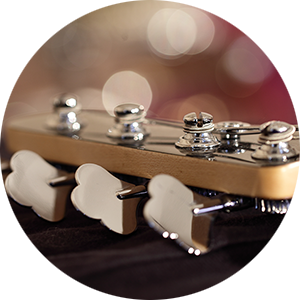 Electric Bass lessons
From Salsa to R&B – the bass program of the Global Music School covers many styles. The electric bass lessons with Martin Lillich are aimed at beginners, intermediate and advanced players. We help you to make decisions and develop your personal training program.
Those who just want to have fun with the bass once a week are as welcome as people who meet with friends after work to play, and of course we welcome ambitious future stars. A preparation for a music study is also possible. Martin's experience, and his stylistic range, suits music lovers at every stage of their development.
The bass guitar pedagogy has been developing a lot in the last decades due to the influence of creative bass players. Workshops and online courses for popular music produced a flood of teaching materials and media – the need for orientation with the assistance of a professional teacher has equally grown.
These topics are offered in electric bass lessons:
Confidence and fun on the stage, and in group settings
Creating and adjusting a practice plan, according to your requirements
Training of a clear sound conception, which is the source of your playing
Expanding your rhythmic, melodic and stylistic repertoire
Harmonizing your flow by economizing your movements
Tonal orientation, with exercises that relate to rhythm, melody and dynamics
Further teaching contents
The various playing styles are demonstrated in the lessons and discussed with the students. As a result your sense of responsibility and self-confidence in dealing with the instrument is significantly improved. The lessons integrate topics from neighboring disciplines such as rhythmics and body percussion, harmony and improvisation.
Learn more about the instrument
Stringed bass instruments have been around since many centuries. When rock 'n' roll integrated the drumset into its music in the 1950s, the electric bass gradually replaced the double bass. A groundbreaking development came in 1951 with the Fender Precision Bass. The electric bass instrument stands for powerful, warm sound with thunderous depths. Today, there is a variety of bass guitars in different sizes, with 4, 5, 6 or more strings. The fretless basses are especially suitable for oriental music and microtonal tunings.