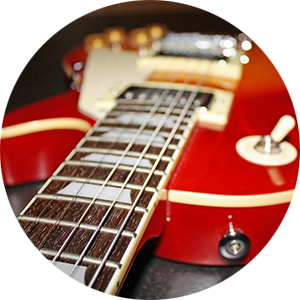 Guitar Lessons
The Global Music School offers guitar lessons for acoustic guitar, electric guitar, flamenco guitar and Latin-American guitar.
Jazz, Blues, Pop – Electric guitar lessons with Yamirah
Yamirah teaches guitar to students starting at age 7. There are no prerequisite requirements, all levels are welcome and the lessons will be based on each individual.
The class is an ideal mix of tunes and theoretical basics. The focus can be on more lead guitar or rhythm guitar. Techniques such as chord analysis/ Inversions, Scales and Arpeggios could be applied to a tune. This can lead to comprehending the song structures and applying it to different genres Jazz, Blues or Pop which in turn can be a way to explore composition.
Concrete goals that can be accomplished in Yamirah's lessons are accompaniment in Jazz standards, Jazz Harmony, Chord Melody, easy improv over for example Blues Rock with Pentatonic Scales as well as Major/ Minor Scales and Modes; Ear training basics and building up an individualized repertoire plus creating your own compositions.
Jazz – Electric Guitar Lessons with Rafael
The Electric guitar / Jazz guitar lessons are designed for students from primary school age onwards and adults. You can choose from a variety of musical styles. All levels of experience are served, from beginners to professional musicians who wish to develop their style or technique.
The lessons can be given with electric guitars (steel wire) as well as acoustic and nylon string acoustic guitars. The choice of the specific type of guitar depends on the style of the pieces of music to be worked on and the preferences of the individual student. During the lessons, students are given the opportunity to get to know the different types of guitars and to use them in a typical style.
The main subjects of the electric guitar lessons can be divided into playing techniques, stylistics, sound, repertoire building, improvisation, reed playing and interpretation.
Learn more about the Electric Guitar
The spectrum of the electric guitar is very broad: pop, jazz, rock, hard rock, almost anything is possible. In comparison to an acoustic guitar, the electric guitar can generate a higher volume through electronic amplification. Its development began around 1920 when musicians were looking for ways to make their guitars more powerful. The first electric guitar was built in 1936, the ES-150 from Gibson.