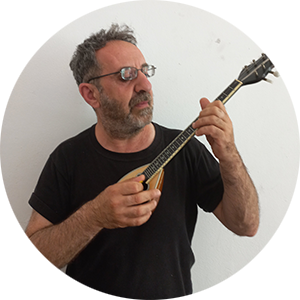 Greek multi-instrumentalist and music teacher
Born in Ioannina.
1982-1992: Music Theory (Harmony-Singing), Classical Guitar, Piano in the Municipal Conservatory of Ioannina, Bouzouki, Folk Guitar, Tzoura, Baglama, Lute.
Alongside at the same time be taught by traditional and folk musicians from all over Greece (Giannis Stamatiou, Domenic. Vamvacaris, Christos Zotos, Themis Papavasiliou, Manolis Michalakis).
Concerts appearances throughout Greece and abroad.
He participated as a musician in a series of music bands.
Professional activity
He created the first school of folk instruments in the Conservatories of Epirus 1989-1994: Bouzouki Teacher in the Conservatory Tsakalov. Since 1994 till today head of the folk department of Municipal Conservatory of Ioannina and also in Philippos Nakas Conservatory.As a professor for one year in the department of Folk and Traditional Music in the Technological Education Insitute of Epirus.
Creator and curator of music ensembles in a series of events and teaching in conservatories and music schools in Epirus for a 25 years period.
Additional professional actions
Since 1990: Participate as Music associate of Traditional Dancing Club of Kallarites in a range of festivals all over Greece and abroad.
1994: In cooperation with the Dance Department of Ioannina University at the International Dance Festival in Warsaw and in Corsica.
In 1998 he created the first Workshop of Traditional Music in Epirus in collaboration with virtuoso musician Christos Zotos.
He has represented as responsible of the Traditional Department of Municipal Conservatory of Ioannina with two of his disciples at the meeting of the Music schools of the Mediterranean in Damascus of Syria where they received very good reviews.
He participated as a music performer of folks and traditional instruments at various events.
Other activities
Research experience: 1987-2000 systematic interviews with the most important representatives of Popular and Rebetiko music with a view to the stylistic and technical approach of the greatest popular musicians like Giannis Stanatiou aka Sporos, Dominikos Vamvacaris, Giannis Dedes, Iordanis Tsomidis, Christos Zotos and Manolis Michalakis, in the context of establishing material(personal records) which serves as a basis of integration needs of the popular and traditional music in the framework of education.
Systematic study and research of the first rebetiko music recordings. Apply of novel educational methods to teaching musical techniques of rebetiko and postrebetiko musicality by means of recorded courses.
Study and implementation of guitar techniques under the training schemes.
Writing of novel teaching method of folk guitar.
Research and implementation of new ways teaching of popular music in the conservatories and in the independent institutes.
He is a member of:
Panhellenic Musician Union and of Association of Municipal Conservatory of Ioannina
and Panhellenic Musician Union of O.T.A.
Vita at the GMA
Since 2022 June Dinos Bouzanis teaches Greek folk music.
[Bouzouki, Tsouras, Baglamas, Guitar] individual and ensemble at Global Music School.
Courses
Greek folk music
(Bouzouki, Tsouras, Baglamas, Gitarre)
Greek folk music Ensemble
Languages
English, Greek
More Infos
Facebook