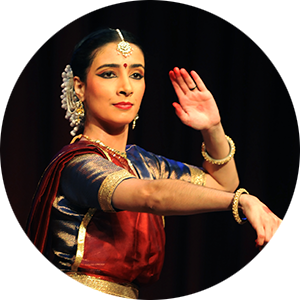 Dancer, Dance Teacher and Choreographer
Ghazal Ramzani, dancer, dance teacher, choreographer, student of grand master of Kathak Pt. Rajendra Gangani and native Iranian grew up in Iran and Germany. As a child and teenager she was trained in European classical music, was a violinist at "Youth Symphony Orchestra of Bremen" , made experiences in the field of theater and acting and later studied philosophy. She found her path in the north indian classical dance Kathak which combines music, theater, movement and philosophy.
After being granted a scholarship from the "Indian Council for Cultural Relations" she moved to India for her professional Kathak training. She was graduated from the prestigious "National Institute of Kathak Dance – New Delhi" as a Kathak dancer. During her studies in New Delhi she was trained not only in Kathak but also in north Indian classical music (tabla and vocals), yoga as well as dance theory and dance history of India.
Ghazal performed as a dancer on various stages and festivals in India and Europe and collaborated with some well-known choreographers such as her mentor Pt. Rajendra Gangani as well ask Saroja Vaidyanathan and Swati Sinha. She is the co-founder of the artist collective "Kalatva Collective". As part of this project, she has presented her own choreographic works, for which she also composed and arranged the music.
Motivation
Creating chances for everyone to experience and learn dance is one of her main concerns. She has participated in many projects with similar goals and initiated such projects. She led workshops, dance classes and performances in public schools and disadvantaged suburbs of Delhi and organized dance projects for refugee children in Germany. She is currently engaged in sociocultural projects in Berlin as a dance teacher.