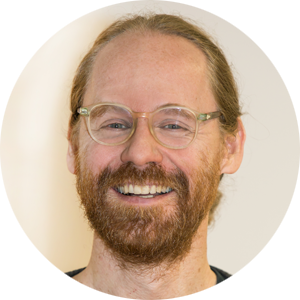 Musician and teacher for overtone and throat singing
Gisbert Schürig began playing the guitar in 1984 at the age of thirteen. As a teenager he was active in various rock bands. After studying musicology and instrumental pedagogy (guitar) at the Cologne University of Music, he graduated with a degree in pedagogy. Afterwards he attended advanced trainings and intensive studies in overtone and throat singing and took lessons with Wolfgang Saus, Hoosoo, Michael Ormiston and Marc van Tongeren.
As a concerting musician, composer and performer, he is active in many different fields: Concerts and releases with dancefloor rock formation Blotch, composer for theater productions & fire shows, CD productions with singers Velve as well as Yifat Cohen, collaborations with throat singing luminaries Alien Voices. Together with Jennie Zimmermann he is active as 'Duo Phyla'.
Vita at the GMA
At the GMA, Gilbert gives private lessons in a wide variety of specialties: from the youthful rapper & beatboxer who enhances his performance with booming throat singing, to the experimentally oriented voice improviser who uses overtone singing to open up further possibilities for her voice.
Motivation
"As a musician, I am always interested in looking beyond individual genres and traditions. I'm excited by the diversity of instruments and styles in the Global Music Academy, and I think the approach of bringing together very different approaches to music under one roof is forward-looking."