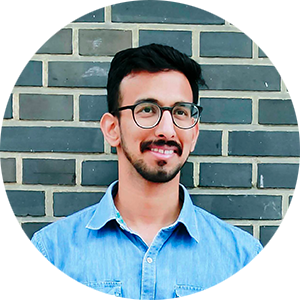 Singer and Teacher of Hindustani Music
Raunak Kulkarni was born and brought up in Pune, which is one of the major hubs for Indian classical music and cultural center of Maharashtra. His family truly admires Indian classical music and often had encouraging environment. This led to inclination towards developing it as passion. He came to Germany in 2018 to pursue his masters in landscape architecture and completed it in 2021. Alongside studies and profession, Raunak continued to follow and explore his passion towards Indian classical music.
At the age of 13, he began taking his initial lessons under the guidance of his mentor (Guru) Shrimati. Varsha Nene-ji in Pune. 14 years of rigorous training from her helped him complete Sangeet Visharad (lvl.7) from Akhil Bharatiya Gandharva mahavidyalaya in 2018. Raunak learned Khayal gayaki(singing style) of Kirana Gharana, Bhajans, Natyageets, Bhaavgeet and many more sub-forms of Indian classical vocal music from her. To understand the Laya(taals) better, he also learned Tabla from his guru Shri. Vijay Dastane-ji for 2 years.
Musical career
Hindustani classical music is a lifelong learning process and he is preparing and developing himself for advanced studies and a performing artist. Raunak has sung in many formal and informal events in India and Germany. Recently, he was also awarded a 2nd prize in solo semi-classical category in a online singing competition held by Vasant-Smruti in 2020. In addition, to increase and spread his knowledge, he has recently started teaching beginners as a Khayal teacher.
Teaching aim
His primary aim of teaching is to generate interest within a student about this art form, perfecting the basics and assembling a strong foundation. Courses focus on fundamental notes and taals, its coordination and introducing Ragas and raag based improvisations in Khayal style. Other forms like Chantings, Bhajans, Bollywood, semi-classical forms will also be taught alongside.
Motivation
Indian classical is a deeply spiritual time dynamic music and is one of the most respected art form in India and as well as other parts of the world where it has reached. The Ragas based improvisations and ornamentation makes one a impromptu artist. The coordinated notes of the ragas with the taals at different tempo is a unfolding-divine experience. It gives me immense pleasure to promote this art form to the people of Germany and spread its essence for inner peace, happiness and joy of singing.
Vita at the GMA
Raunak Kulkarni has started teaching Hindustani classical singing at GMA since July 2021.